'Beauty and the Beast' premieres in China
china.org.cn / chinagate.cn by Zhang Rui, March 1, 2017

Adjust font size:

The romantic live-action Disney remake of "Beauty and the Beast" premiered at the Shanghai Disney Resort with hundreds flocking to witness Emma Watson leading the starry cast on the red carpet on Monday.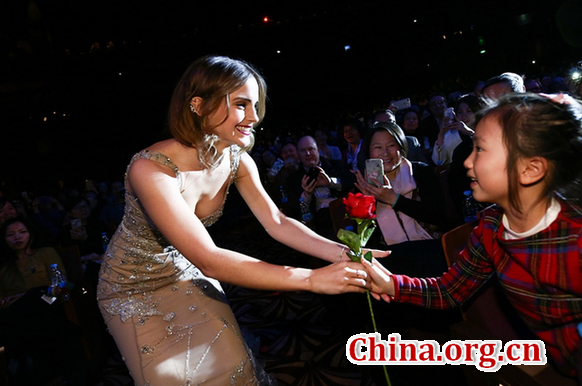 Actress Emma Watson gives out a rose to a little girl on the red carpet of the grand premiere of "Beauty and the Beast" in Shanghai, China, Feb. 27, 2017. [Photo / China.org.cn] 
Director Bill Condon, actress Watson, actors Dan Stevens, Luke Evans and Josh Gad appeared at the ceremony in a delicately decorated venue with flowers and lights to create a romantic and dreamy environment.
Watson, widely known in China for her role as Hermione Granger in the Harry Potter film series, said on the red carpet that she was in Shanghai for the first time and really enjoyed the stay here.
As a symbolic figure in various women's rights causes, she further stated the reason as to why she took on the role in "Beauty and the Beast." The animation has been her favorite animated feature since she was four and in her memories the lead role of Belle showed independence and desire to see the world as a young woman who is brave to express herself. "I have never seen such a character in any other fairy tales," she said.
Disney's "Beauty and the Beast" is a re-telling of the studio's animated classic which refashions the classic characters from the tale for a contemporary audience, staying true to the original music while updating the score with several new songs. Director Condon said on the red carpet that he loved the 1991 animation so much, especially the music, that he wanted to introduce the classic to a new generation through the remake.
Disney has been successfully made profitable triumphs through remakes of its own animated classics in China in recent years. For example, the live-action "Cinderella" made US$71.57 million in China while the remake of "The Jungle Book," which won best visual effects at the Oscars on Sunday, grossed US$150 million here. Disney has already decided to hire Niki Caro to helm a live-action remake based on the 1998 Disney animated feature adaptation of the story of the Chinese heroine Mulan.