One mum and her 103 adopted children
china.org.cn / chinagate.cn by Lin Liyao, February 28, 2017

Adjust font size: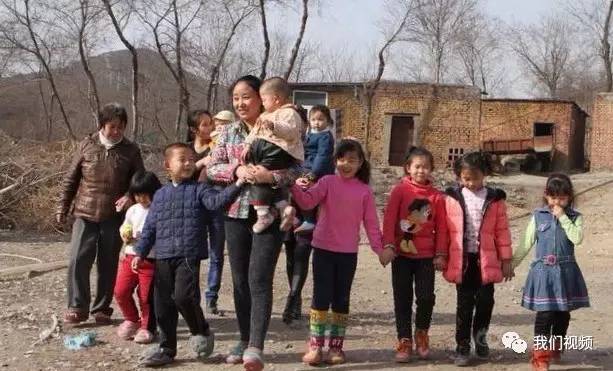 Li Lijuan and her adopted children take a walk outside their house. [Photo/Beijing News]
On Feb. 18, another abandoned child was sent to the "Village Care" in Wu'an, a county-level city of Handan in Hebei Province. It was the 103rd abandoned child Li Lijuan has adopted since 1996.
Li became a millionaire as a president of a mining company in the 1990s. Now, she owes friends more than two million yuan and suffers from lymphatic cancer. However, she is doing something that brings her much contentment.
"Village Care" in Wu'an
Li's "Village Care" is located at the foot of a hill in Shangquan Village of Wu'an. There was no street or store before, only a row of cob houses standing on bleak land. Li has reclaimed wasteland around these houses to raise dozens of chickens, sheep, pigs and dogs.
Li is now aged 48. When she was 27, however, she adopted her first child who was named Li Yongchao.
On the early morning of May 9, 1996, Li was on her way to work when she found an abandoned little girl huddled at the roadside. She took the girl back home and began her life being a mum of abandoned children.
In 2016 alone, more than 20 children were dumped in front of the gate of Li's house. Among her 103 children, most are suffering physical disability and mental disease.
Raising 103 children in two decades
Li usually gets up at 5 o'clock in the morning to prepare breakfast for her children. Some of her grown-up children now work outside or are in universities; most children at the home currently are little ones, or in primary or secondary schools.
After breakfast, Li sends off dozens of them to go to school. There are seven different schools involved, none of them nearby, so the children have to be delivered in three different cars.
With the children temporarily off her hands, Li has to wash mountains of clothes, take care of sick children and prepare lunch. Besides all the housework, Li also must feed her animals, do other farm work and sell some daily necessities in the town to earn more money.
In 2011, she was found to be suffering from lymphatic cancer. Doctors ask her to stay in hospital for further treatment, but she refused. She prefers to stay at home with her children. "The doctor told me that I could only live another seven months. Yet, look, I'm still alive now," said Li with a big smile.