Village life in rural Jilin
china.org.cn / chinagate.cn, January 24, 2017

Adjust font size: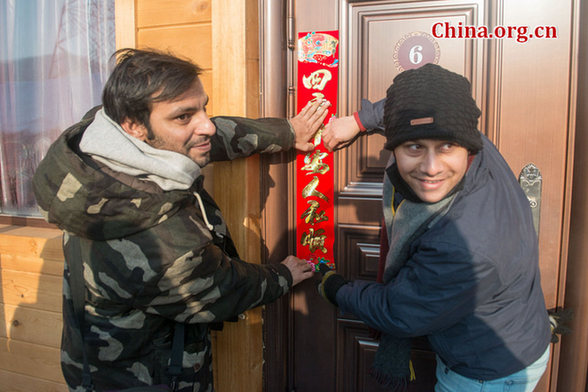 International students studying in China glue Spring Festival couplets to the door as part of their tour to experience Chinese New Year traditions on Jan. 20, 2017 in the Laobaishan Snow Village in rural Dunhua City of northeast China's Jilin Province. [Photo by Chen Boyuan/China.org.cn] 
Snow Village, in Dunhua, Jilin Province, is not easy to reach. The only road that connects the village with other settlements is long and bumpy and goes through hilly terrain. At this time of year it is covered in snow.
Village resident Ran Yan, 46, says she is used to the conditions here and enjoys the location.
"I have houses I could go to in nearby cities but I choose to live here because I prefer the environment. There is pollution in the city," she explains with a smile.
Ran Yan recently welcomed a group of foreign students and journalists to Snow Village and introduced them to life in her hometown, as she was busy making preparations for Chinese New Year, known as the Spring Festival.
The visitors watched Ran Yan make miandoubao, steamed buns with sweetened red bean paste fillings, made especially for Chinese New Year. She makes it look easy, but the foreign guests soon realised it's harder than it looks to get them right.
"Most of the preparation I do for the New Year involves making food. We slaughter a pig, and make dumplings and suancai (a kind of pickled vegetable)."
Family members who live in the city come home towards the end of December to spend the New Year in the village. During the Spring Festival, the family will eat together, making dumplings and going for walks in the snow-covered hills that surround the village. They also take sledges up the slopes so the kids can race down them. Of course, children are also given hongbao (red envelopes) and are expected to kowtow(bow) to their parents in turn.
Ran Yan explains that her hometown also has its own peculiar New Year traditions. On Jan. 15 they will roll around on the ice in order to ward off illnesses in the coming year.
It's not just family who come to this remote Jilin village during the long winter.
"Besides June, November until March is our peak tourist season. The area is covered in snow and the scenery is beautiful."
Recently, Dunhua Snow Village has seen a greater flow of tourists arriving as the area's natural beauty grows in fame. When asked how the increased tourism has affected her life and the village, Ran Yan is very enthusiastic.
"We can make more money now. Before, I used to cut wood to make money. Now I prepare food for tourists, they stay in our accommodation, and they buy our food to take with them when they leave as well. I like it!"
Ran Yan looks confused when asked if life in the village is difficult. She says, "I can sleep on the kang (beds heated by burning logs underneath them) here, we can store meat in an outdoor warehouse for the winter; there is no need for a refrigerator. Plus, I grew up here and I don't want to live anywhere else."