Maximizing China's Cultural Heritage
China Today by DUAN HAIWANG & PAN JIANFANG, January 24, 2017

Adjust font size:

OVER the past few years, China has made great improvements in the preservation of its cultural heritage, but historically the country still faces huge shortfalls in many areas. Issues to be contended with include technological inferiority, inefficient management systems, and a shortage of homegrown professionals in the field.

This site, now in Tonghua City, Jilin Province, was formerly a beacon tower on a section of the Great Wall built in the Han Dynasty (206 BC–AD 220).
In an interview with China Today, Feng Tiehong, director of Cultural and Natural Heritage Conservation Institute at China Construction Engineering Design Group Co., Ltd., shared his views on the development of cultural heritage preservation in China.
China Today (CT): What is the value of cultural heritage these days?
Feng: First, our cultural heritage is a variety of local treasures from different places. These treasures often increase people's pride in their hometown. A large proportion of the population leave their birthplace to find new opportunities in big cities. This empties many rural villages, leaving only young children and the elderly.
The obvious question is: How can we develop these villages? I think we can start by better preserving and utilizing our cultural heritage to increase local people's pride in their hometowns and make them happy to live and work there. People who are willing to stay will be more interested in developing local businesses, which will create new jobs and boost regional economic development, as well as playing a positive role in treating "urban disease."
Second, our cultural heritage is a window through which other countries can see more about China and understand our country. Since the drive of "reform and opening-up" started over 30 years ago, China has achieved stunning economic growth but the international community still fails to take an impartial view of China. We need to create an image using a combination of economic strength and distinctive culture. Now we understand more about our cultural heritage and we are ready to introduce it to the world, showing other nations that China has things well worth learning: philosophies and traditions that have been passed down from generation to generation.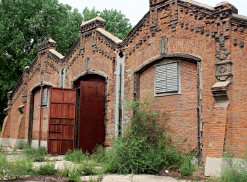 A Russian-style Architectural Complex in Gongzhuling City, Jilin Province.
Third, our cultural heritage contains excellent values that should be taught in schools. The turbulence of the "cultural revolution" from 1966 to 1976 did have a negative effect on traditional culture, causing the loss of some virtues and replaced with unsavory habits. Our cultural heritage, both tangible and intangible, contains many positive values. If these values are better utilized in domestic education, Chinese people will be able to absorb good qualities and abandon negative values. This cultural heritage has proved to be full of vitality as it has been passed down for generations.
CT: How can we better tap the potential of the cultural heritage market?
Feng: I think efforts should be made to develop cultural and creative industries. We still have room for improvement. At the moment we are held back by inadequate management and a lack of cultural heritage specialists. We have made it a priority to save and protect cultural heritage but we haven't developed related industries.
Taking a wider view of the whole industrial chain, we can spot many business opportunities in cultural heritage preservation and utilization. A good example worth noting is the Forbidden City in Beijing, which has developed many cultural and creative products. This, however, is a rare example.
We need to embrace the spirit of craftsmanship, focus on the special characteristics of different types of cultural heritage from different periods of history and develop relevant products designed to meet particular needs.
In the process we need to address two important issues. First is that a professional organization should be established to lead and promote the overall development of a cultural heritage industry. Second is that efforts should be renewed to guarantee follow-up action after a plan for the preservation of each cultural heritage site is made and monitoring systems should be set up to ensure the correct implementation of these plans.