Honey-do-list for a Chinese lunar New Year
china.org.cn / chinagate.cn, January 22, 2017

Adjust font size:

Editor's note: China has many traditional holidays, of which Spring Festival is the most important and exciting. This year, the Spring Festival, or traditional Chinese Lunar New Year, will fall on Jan. 28, the earliest time in the last five years. As the tradition goes, the preparations for the festival are made between the 23rd and the 30th day of the final month under the Chinese lunar calendar. If you are in China, or wherever on Earth you happen to be, and are in the mood to celebrate the festival in a traditional way, China.org.cn is happy to share this honey-do-list with you to start the year with good luck. Here's the countdown to the big day:

Day 23 of the 12th month (Jan. 20, Friday, 2017)

You and your "honey" can make or buy candy. The 23rd day of the twelfth month on the Chinese lunar calendar is also known as "Little New Year." It is the date when the Kitchen God returns to Heaven to report on your behavior.

Day 24 (Jan. 21, Saturday)

You and your family should take the chance to clean the house from top to bottom, a tradition from olden times symbolizing a fresh start.

Day 25 (Jan. 22, Sunday)

People make bean curd at home. As the tradition goes, the Jade Emperor, who represents supreme heavenly power, will visit the secular world on this day, and people eat bean curd to show their frugality.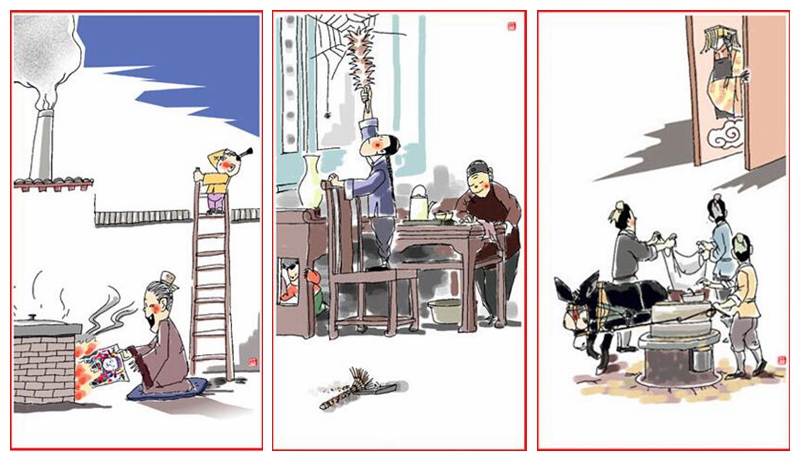 Traditions on Day 23 - 25 of the 12th month on the Chinese lunar calendar. [File photo / Xinhua]
Day 26 (Jan. 23, Monday)
People make various meat dishes. In olden times, poor people could not afford to buy meat often and this day was something of an annual occasion for treating themselves to this luxury.
Day 27 (Jan. 24, Tuesday)
People eat chicken and attend street fairs to get all their daily necessities for the upcoming Spring Festival.
Day 28 (Jan. 25, Wednesday)
People make steamed buns, and put up red papercuts on their windows. The cuts are replacements for peach wood used in the past and are a sign of good luck.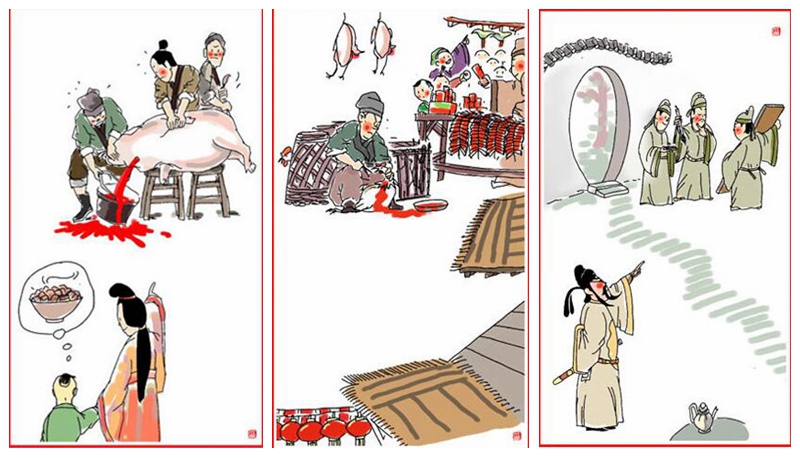 Traditions on Day 26 - 28 of the 12th month on the Chinese lunar calendar. [File photo / Xinhua]
Day 29 (Jan. 26, Thursday)
People sweep their ancestral tombs and pay their respects to the ancestors buried there. Paying tribute to ancestors is a tradition that dates back to very ancient times.
Day 30 (Jan. 27, Friday)- Lunar New Year's Eve
This is the last day of the year on the Chinese lunar calendar. People hold family reunions and enjoy a big dinner together. Also the day officially marks the coming of spring that will drive away the winter blizzards with warm breezes.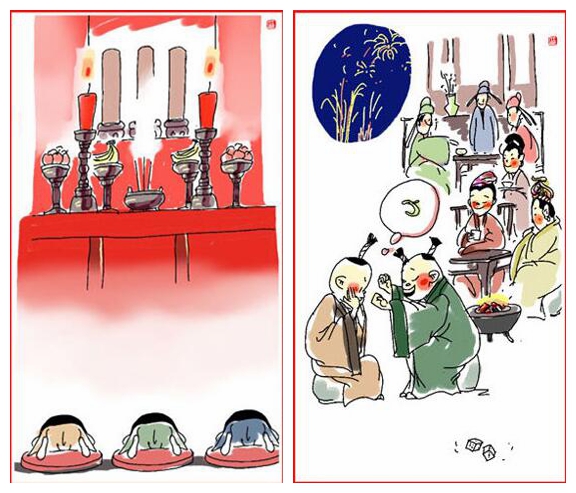 Traditions on Day 29 - 30 of the 12th month on the Chinese lunar calendar. [File photo / Xinhua]