Lang Lang to play with Metallica in Beijing
china.org.cn / chinagate.cn by Zhang Rui, January 11, 2017

Adjust font size:

Chinese pianist Lang Lang will be the guest performer at U.S. metal band Metallica's Beijing show, one of the most anticipated live concerts of the year in Beijing.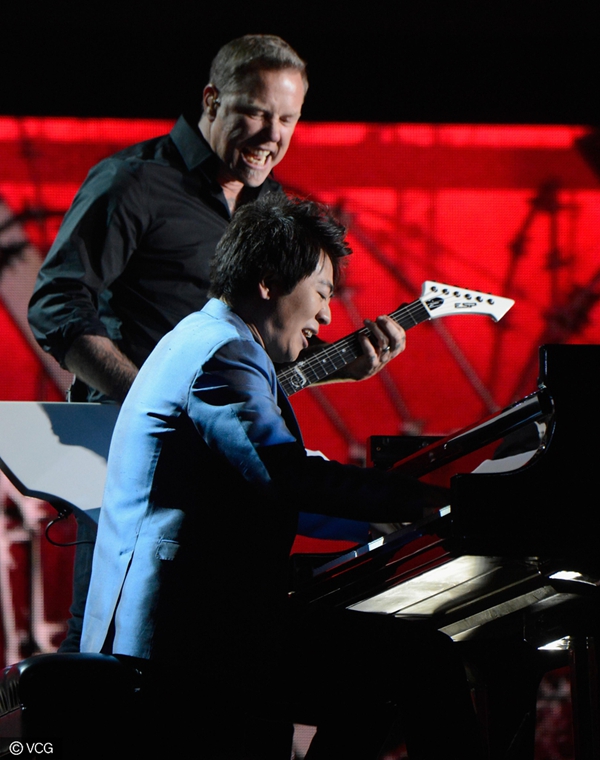 Lang Lang and James Hetfield of Metallica perform onstage during the 56th Grammy Awards at Staples Center on Jan. 26, 2014, in Los Angeles. [Photo/VCG]
According to promoter AEG China, Lang Lang will play for the classic song "One" from "And Justice For All" album with Metallica. This is their second collaboration since the 2014 Grammy's.
Their Grammy awards show collaboration on "One" was well received, and later the studio recording version of "One" between Metallica and Lang Lang was released on iTunes.
As one of the most influential and commercially successful rock bands in history, Metallica's WorldWired Tour will perform in Beijing on Jan. 18. The band will first travel to Shanghai on Jan. 15 and later to other Asian cities after Beijing show, many of which were sold out. The tour is in support of the rock legends' eleventh studio album "Hardwired…To Self-Destruct" released in November 2016.