Kenya to launch Nairobi Int'l Finance Center in early 2017
Xinhua, December 5, 2016

Adjust font size: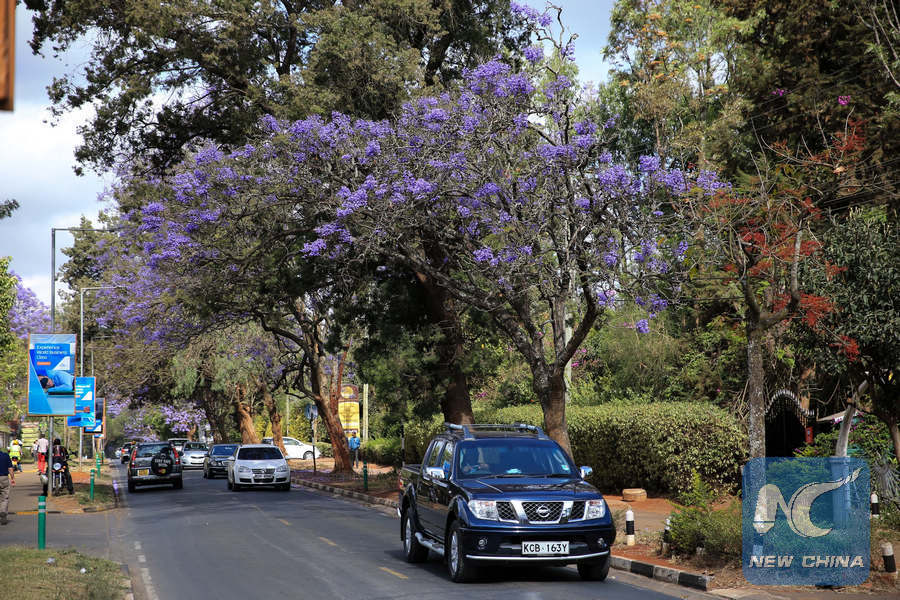 A blossoming jacarandatree is seen in Nairobi, Kenya, Oct. 21, 2016. Jacaranda is a sub-tropical tree native in south-central America. It is widely planted in other parts of the world due to its beautiful and long-lasting flowers. (Xinhua/Pan Siwei)
Kenya plans to launch the Nairobi International Finance Center (NIFC) in early 2017 which will make the capital a regional financial hub, officials have said.
Director General Budget, Fiscal and Economic Affairs in the National Treasury Dr Geoffrey Mwau told a media briefing in Nairobi on Tuesday that Kenya has already developed the legal and regulatory framework for the NIFC.
"Once the NIFC is in place, it help mobilize finance from the international community into the East Africa region," Mwau said during the official launch of the sixth Global Islamic MicroFinance.
The two-day event brought over 100 delegates to review ways to expand Kenya's Islamic financial sector. Mwau said the NIFC will also help position Kenya as a regional financial hub as well as an international finance center.
The NIFC is one of the two key flagship projects for the financial sector in Kenya, the other being the development and implementation of a Capital Market Master Plan.
According to the National Treasury, the flagship projects will only succeed if Kenya can leverage on the opportunities available in Islamic finance.
Mwau said Islamic finance holds enormous potential not only globally but in Kenya.
Data from the Islamic Financial Services Board indicates that the global Islamic financial services industry reached an overall value of 1.8 trillion U.S. dollars as at 2015.
"This is clearly a significant proportion of the global financial sector space into which Kenya needs to integrate itself," added Mwau.
The Treasury official said Islamic finance will enable Kenya to diversify its sources of finance.
The East African nation is also planning to float an Islamic bond in the international markets. The Director General said that Kenyan laws currently don't allow the country to use assets for the issuance of bonds as required by Islamic bonds.
"We are therefore amending our laws to ensure Kenya joins other African states that have floated Islamic bonds," he said.