Local gov'ts tighten up car-hailing regulations
china.org.cn / chinagate.cn by Deng Haijian, October 14, 2016

Adjust font size: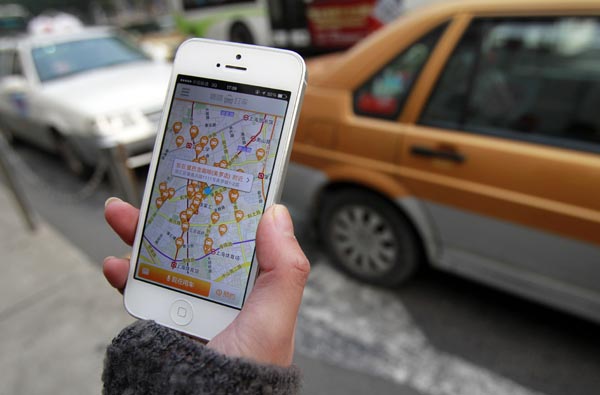 A customer checks his smartphone app that eases finding a taxi. [Photo/China Daily] 
Four Chinese megacities – Beijing, Shanghai, Guangzhou and Shenzhen – recently announced detailed draft regulations on internet car-hailing services.
Under these plans, Beijing, Shanghai and Shenzhen will have requirements for the vehicle's wheelbase and require that only local drivers enter the service; Guangzhou will also only allow drivers who hold at least a junior high school diploma and own vehicles bought within one year.
The detailed plans, which are still being subjected to public scrutinizing, all show that "stricter regulations on internet car-hailing services" are becoming a consensus, reported Youth Times on Oct. 9.
The new rules have caused instant nationwide repercussions and doubts over their sustained operation.
One internet user jokingly suggests that a lady on blind dates need only ask one simple question – "Are you a part-time ride-hailing driver?" – in order to know the man's financial and living conditions, since only local residents, who have a car with at least a 1.8T engine, a wheelbase over 2,660 mm and a local license plate, can apply to be a car-hailing driver.
But does any Beijinger or Shanghainese with a fancy car want to take the trouble to serve as a driver?
According to statistics released by DidiChuxing, the Chinese-based car-hailing company, only 1/5 of existing certified cars on its platform in Shanghai can meet the wheelbase requirement; of 410,000 Didi-drivers, less than 10,000 have Shanghai hukou, the required household registration certificates.
This means that only 20 percent of certified cars in Shanghai can meet the wheelbase requirement and only 2.5 percent drivers can meet the hukou requirement.
Higher threshold and tougher regulations probably mean that the sharing economy will hit the skids and that hailing a taxi might be still difficult and expensive.
Essentially, local government's drafted measures will not only raise the operation costs but also the threshold for drivers to enter the service.
This may bring about three outcomes.
First, car-hailing services, as a model of the "Internet Plus" business, will still be something for the privileged few.
Up until June this year, Didi had had 300 million registered users, including 15 million certified drivers, and reached a record number of 14 million daily orders.
If local governments were to follow suit in tightening their control, millions of jobs and tens of billions of trade value may disappear.
Second, tightened control is actually against the tide of green transformation in urban areas. Some estimates suggest that the average waiting time for customers hailing a car may increase from five minutes to fifteen minutes and that drivers might choose the more convenient and profitable hailing orders.
The positive influences of online car-hailing, such as promoting efficient transportation and environmental protection, would also be hurt.
Third, stricter regulation in the business will also impact people's daily lives.
The aim is to make people happy, satisfied and convenient, said Liu Xiaoming, vice minister of transport, when discussing the transportation reforms.
If the tightened regulation is implemented and expands to other cities, one can easy to imagine how the public would react.
Fortunately, the policy is still in the pipeline. Local policymakers should think twice and try to regulate car-hailing services in a less invasive way.
Deng Haijian is a political commentator for China.com.cn.
The article was first published in Chinese and translated by Chen Boyuan and GuoYiming.
Opinion articles reflect the views of their authors, not necessarily those of China.org.cn