Poverty alleviation: Greening the desert for people's wellbeing
chinagate.cn, October 11, 2016

Adjust font size: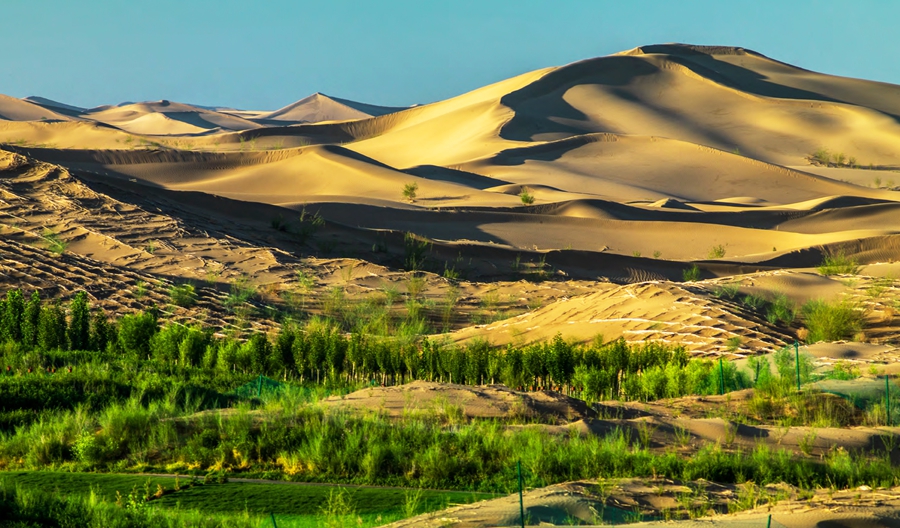 Kubuqi Desert [China.org.cn]
As noted by Chinese President Xi Jinping, promoting ecological progress is of vital importance to the people's wellbeing and China's future; and it remains a daunting task to improve the ecosystem through afforestation. Nearly 30 years ago, the Kubuqi Desert in Inner Mongolia, the seventh largest desert in China, was a barren land with no water, electricity, or future. To alleviate poverty through desertification control, Elion Resources Group (ELION) has successfully afforested an area of over 6,000 square kilometers by means of technological innovation, leading to a 95% decrease in sand-dust weather and an increase by six times in precipitation in Kubuqi.
During the process of ecosystem restoration, ELION has blazed a trail in the industrial development simultaneously driven by desertification control and poverty alleviation, while building up a new mechanism that integrates the government policy support, corporate commercial investment and market-oriented participation by farmers and herdsmen.
At this time of the year when forage has to be prepared in pastoral areas, Chen Ningbu no longer needs to worry about the forage for his over 300 sheep this winter, since he has enjoyed a bumper harvest of crops he planted in the sand.
The village where Chen Ningbu lived is located in the Kubuqi Desert and it used to be afflicted by sandstorms throughout the year. Large tracts of grassland and farmland were swallowed then. In the 1990s, average annual income for each person in this area was less than RMB 400, and the local pillar business, Hangjinqi Saltworks, was also having a hard time, suffering from an annual loss of RMB five million for years.
When the saltworks was on the verge of bankruptcy, ELION stepped in and took over its operation. To save the business, urgent actions against desertification were needed. It was then decided that for each ton of salt sold, RMB 5 should be used in afforestation efforts. However, the survival rate of trees in the arid desert was even under 10%.
To solve the problem, ELION used grids made from twigs of bulrushes and the Salix mongolica to protect the trees against strong winds and the sand, effectively increasing the survival rate to 60%, but the cost for each acre of trees soared to up to RMB 6,000.
The soaring cost could not deter ELION, because the saltworks could resume its production only if the ruinous wind and sand are tamed by trees. At the time, the local government announced a new forestry policy, which stipulated that any individuals or institutions that have planted trees or forests or participated in the plantation efforts are entitled to the ownership or joint ownership of such trees or forests. The clarification of ownership has greatly encouraged ELION to step up its fight against desertification. However, opportunities come with challenges.
How to effectively reduce the cost for tree planting? A pivotal technical revolution was inspired by a half-finished bottle of water.