Women farmers turn waste into wealth
ejilin.gov.cm, October 11, 2016

Adjust font size:

Wang Lipeng, a resident in Leshan county Huizhen Farmers' specialized cooperative in Jilin province, creates things of beauty from straw.

In 2014, she was a farmer, but now she's a teacher of straw crafts in the new farmer engineer courses launched in Jilin province this year. All the courses originated from a poverty alleviation research project in 2014. Straw and reeds were considered waste in the past, but now they are turned into wonderful hand-made crafts, each worth from a few to a hundred yuan. Wang Lipeng and her friends have established a cooperative to teach women farmers this new skill. After a two-year effort, the straw products from Leshan county have attracted lots of consumers, so that every craftswoman is able to earn hundreds of yuan each day. Now, Leshan county has launched many free straw-crafting courses for residents. Officials from Huizhen farmers' specialized cooperative are prepared to register trademarks and patents, and apply for intangible cultural heritage status.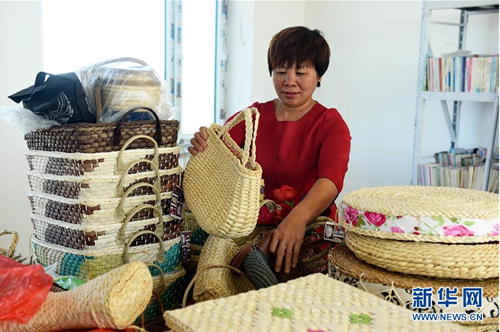 Wang Lipeng and her intricately woven products. [Photo/Xinhua]