Making a fortune out of camel milk
China Daily,September 28, 2016

Adjust font size: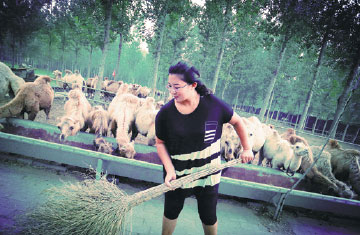 Zheng Linlin cleans her camel farm in Tangshan, Hebei province.[Photo provided to China Daily]
Hebei native overcame early setbacks to build successful business
Age 28 and just six years out of college, Zheng Linlin is already a rich woman.
The native of Tangshan in North China's Hebei province can earn in excess of 1 million yuan ($150,000) per year selling camels and their milk.
But her fortune didn't come easily.
Back in 2010, Zheng met with strong opposition from her family when she started out in her new career, which they called "absurd".
"They thought a college graduate should find a 'decent' job doing white-collar work, not dealing with camels, which they said was humiliating," Zheng said.
"My mom worried I would fail and lose all my money because camels are a rare kind of livestock in places with a subhumid climate."
Her mother's worries were not groundless-camels in China mainly inhabit arid grassland areas in the Inner Mongolia and Xinjiang Uygur autonomous regions.
But Zheng insisted on trying to make the business work.
"I learned in college that camel milk has a high vitamin and mineral content, and most importantly, it has therapeutic value for diabetics," she said, adding that previous methods of camel milk production in China were at the "subsistence" level.
"I wanted to develop a camel milk industry, and the market for fresh camel milk was promising-customers need it for medical purposes or as a nutritious food."
Although the prospects were good, Zheng's career started out poorly.
The camels she bought from Inner Mongolia were not well-adapted to the humidity in Tangshan.
"I couldn't even find a vet who could treat my camels when they were ill," she said.
So Zheng traveled to Inner Mongolia, about 300 km from Tangshan, to get some expert advice.
She was advised to feed the camels salty grasses and fodder while trying to recreate the living conditions they were adapted to.
Even so, illness, death and low yields meant Zheng lost more than 1 million yuan during her first three years of business.
But despite these setbacks, Zheng learned how to feed the camels correctly and how to handle their illnesses, leading to stabilized yields.
Now she has 170 camels-50 are milk-producing females, while the rest are to sell or for tourists.
"Since the price of camel's milk is much higher than that for cow's milk, few people drink it in the same way," Zheng said, adding that her most frequent customers are either affluent or diabetics.
At current market rates, half a liter of camel milk costs 198 yuan, while cow's milk costs less than 10 yuan.
"It's a luxury food," Zheng said.
With her business now flourishing, Zheng has opened a branch of her farm in Beijing and plans to launch another in Shanghai this October.
"When I started my career, I wouldn't go to reunion parties with my classmates because I was afraid of being shunned for raising camels," she said.
"Now, I still don't go, because I am too busy with the camels."