Poverty alleviation in Ordos
GPIG by Ai Yang,September 26, 2016

Adjust font size: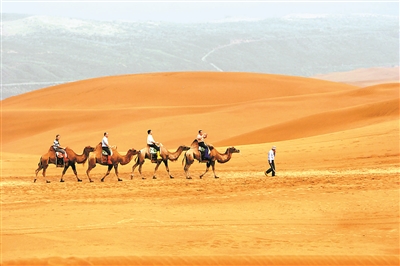 Ordos is a prefecture-level city in southwest Inner Mongolia. It lies within the Ordos Loop of the Yellow River and is neighbor to the provinces of Shanxi, Shaanxi, and Ningxia Hui Autonomous Region. Ordos, one of the 18 typical Chinese areas that have seen significant development since the reform and opening up policy of 1978, is an emerging city in Inner Mongolia and one that is demonstrative of the poverty alleviation efforts carried out over recent years.
Ordos is known throughout China for its relative wealth, but whether the city is in fact free of poverty requires closer examination. The truth is that over the last two years, the local government has done a great deal to eradicate poverty. In 2015, a total of 303 villages and 24,216 people were lifted out of poverty. Of this 24,216 total, there were respectively 1,132, 6,476, and 16,608 people among the three different poverty group levels as measured by the country, the autonomous region, and the city. Altogether, Ordos has provided poverty alleviation aid to 27,356 people in the last two years.
In 2016, the city is continuing its focused poverty alleviation efforts and is making a priority of lifting those below the national poverty line out of poverty first.
Since the 12th Five Year Plan was put forward in October 2010, Ordos has realized several key achievements:
First, the population of those living in poverty has been significantly reduced. Through implementation of a number of poverty alleviation projects, the poor population shrunk to 53,900 by the end of 2015, compared to 138,000 in early 2011. The poverty headcount ratio has been lowered from 13.5% to 7.6%, which is now lower than the national average.
Second, poor rural residents have seen a steady increase in their income. In 2014, the per-capita disposable income of rural residents in Ordos reached RMB 13,318, up from the RMB 8,756 of 2010—an 11.1% year-on-year growth. Additionally, the per capita disposable income of poor rural residents has increased to RMB 4,394.8 from the RMB 2,305.8 of early 2011—an average annual growth of 13.8%, exceeding the city's average income growth rate.
Third, poor rural residents have significantly increased their production capacity. A total of 3.4 km2 of protected agricultural land has been added, increasing the overall area of protected agricultural land in Ordos to 5.9 km2. Water-saving irrigation equipment has been installed over a total of 525.1 km2 of land, pushing the total area of such land in Ordos up to 824.1 km2. In addition, in the last five years the city has introduced 64 new types of agricultural plants and technologies.
Fourth, Ordos has significantly strengthened its infrastructure. A total length of 5,754 km of road has been rebuilt in pastoral areas; and 70% of its administrative villages now have cement roads, compared to the previous 35%. A total of 20,125 km of power line has been installed and reconstructed in villages, providing electricity to 13,323 households. A total of 226,300 residents in pastoral areas now have safe drinking water; 44,200 households have had their homes strengthened; and 9,400 households now have access to gas for domestic use. Of the total number of households, 98.78% have access to radio broadcasts while 91.74% have access to self-run radio broadcasts; television signals now cover 97.91%, while self-run television programs can be accessed by 89.48%.
The broadcast coverage rate has reached 98.78%, while that of regional broadcasts has reached 91.74%.
Fifth, cultural and education programs have seen great improvement as well. In pastoral areas, 5 more primary schools have been added, raising the total number to 54; and 48 kindergartens have been added, increasing the total number to 107. The gross kindergarten enrollment rate reached 95%, an increase of 8.9 percentage points. All administrative villages in Ordos have opened their own respective recreational centers, 60% of which are larger than 200 m2. A total of 718 libraries have been built in pastoral areas and 927 basic cultural-information resource-sharing points have been set up to cover all pastoral areas.
Sixth, social security has improved significantly. Ordos has built 408 new, standardized clinics, to which 100% of the administrative villages have access. The participation rate for the New Cooperative Medical Scheme has increased from 94% to 98%; the endowment insurance coverage rate has risen from 86.3% in pastoral areas to 96.4%; monthly pension has increased to RMB 335, up 28.8% from RMB 260; and the welfare standard has risen to RMB 414 per month, up 38% from RMB 300. A total of 24,113 households and 42,993 farmers are now living on low-income allowances.
Seventh, the ecological environment has been improved significantly. In the past five years, a total of 5,824 km2 of land has been put under comprehensive control, increasing the total controlled area to 30,000 km2. Ecological construction within the forestry industry has been completed across an area of 6,046 km2, and the forest area has increased to 26.31% from the 23.13% of early 2011. Environmental migration has been ramped up, with a total of 2,842 households and 7,548 people relocated.