Pro-poor and Pro-education efforts empower mountain villages
GPIG by Zhang Ling,September 26, 2016

Adjust font size: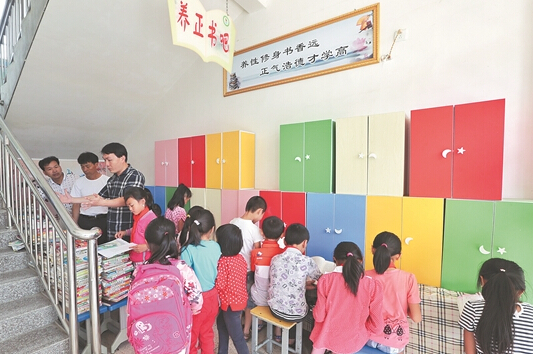 Chishui Village in Fujian Province is a remote village that is at the top of the municipal poverty reduction efforts. Villagers there have made a living by growing tea for generations. Low productivity of old tea trees, however, has recently given rise to poverty. In August 2014, Yan Jiansheng from Quanzhou Municipal Commission for Discipline Inspection and Supervision Bureau came to Chishui Village to serve as the village secretary of the party committee and start his poverty reduction efforts.
Now Yan Jiansheng's tenure will soon be over. He said, "The road from the village committee office building to the most remote place in the village, Mashi Jiaoluo, is being widened and strengthened. I hope the road project can be finished before I leave. It will be much easier for children from Mashi to attend Chishui Primary School." (Written by Journalist Xu Yaling, pictures from Dai Hanqi)
Better Living Conditions
On the morning of June 28th, it was raining hard. Journalists followed Yan Jiansheng to the Chishui Village entrance. Yang Wunan's house is under construction, so he guided them into his younger brother's house.
At the beginning of his tenure, Yan Jiansheng visited locals and learned that in the small stone house there lived three brothers, one of which was Yang Wunan, and that they lacked the financial resources their short stature had made it difficult for them to find employment.
Yan Jiansheng helped them obtain subsidies from the Housing Benefit Project. During the 2015 Chinese New Year, the third brother Yang Wujin moved into a new house; during the 2016 Chinese New Year, the second brother Yang Wuneng moved into a new house; now big brother Yang Wunan is building his new house, and he expects to move into it during 2017 Chinese New Year.
"To ensure that each villager lives in his or her own house and work happily is one of my priorities." In 2014, Yan Jiansheng helped one household in Chishui Village access low-income affordable housing and 19 households join the Housing Benefit Project. All their houses were completed by the end of 2014. In 2015 and 2016, he helped 11 and 4 households join Housing Benefit Project, respectively.
Widened Village Roads
The wide, flat road from the foot of the mountain to the village entrance is 2.8 km long with lush greenery on both sides. According to village secretary Zheng Wenhua, it was previously only 3 meters wide and seriously damaged. After Yan Jiansheng came, he encouraged road reconstruction and expanded the road to a width of 6.5 meters. The road reconstruction work was finished during the 2015 Chinese New Year. By August 2015, the accompanying projects, such as ditches, shoulders, greenery engineering, and security engineering, were completed as well.
Apart from road construction, Yan Jiansheng promotes distinctive agriculture. He encourages villagers to replace old and degraded tea trees with other plants or vegetables and has obtained policy support to grow camellia oleifera abel, sweet corn and other distinctive agricultural products, so as to improve villagers' income.
More Educational Resources
Pleasant music flows from the Chishui Primary School when classes get out at noon. The school principal Lin Kunyang said, "The school bell system was donated by secretary Yan's middle school classmates."
"Pro-education work comes before pro-poor efforts." Yan Jiansheng sticks to this concept while introducing urban educational resources into mountain villages. Zijiang Middle School in Jinjiang City and Chishui Primary School have conducted mutual assistance projects; Aixi Practice Team from Xiamen University offers one-week voluntary teaching at Chishui Primary School every year; Students and faculty members from Jinjiang Yangzheng Middle School have donated colorful bookshelves and many books to Chishui Primary School. In addition, Jinjiang Yangzheng Middle School, Xiping Middle School and Chishui Primary School share research and teaching experience through open courses and seminars. 
When the interview is about to end, Zheng Wenhua gave a list of the students who attended National Higher Education Entrance Examination, or Gaokao, in the village. Yan Jinsheng said, "After the Gaokao admission results come out, please tell me immediately if any prospective college students cannot afford their tuition fees due to poverty. I will contact those who are willing to help."