Survey reveals young blue collar workers' status
china.org.cn / chinagate.cn by Fan Junmei,September 22, 2016

Adjust font size:

Blue collar workers of the post-95 generation work 9.4 hours every day on average and get only 3.7 days to relax every month, according to a survey jointly conducted by Ganji.com and Data100.com.cn.

Nanjing fever




According to the Yangtze Evening News, Nanjing, capital of Jiangsu Province, is one of the cities where young blue collar workers born after 1995 in eastern and central China prefer to work.

They tend to obtain jobs through social connections, or get employment information from online recruitment sites or talent markets.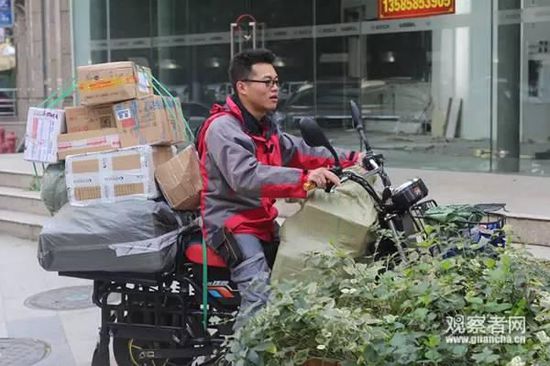 A courier delivers packages. [Guancha.cn]
Twenty-year-old Xiaoli is from Ma'anshan City, Anhui Province, and works as a courier in Nanjing after graduating from high school.
"Most young guys in my village are working in Nanjing, that's why my parents wished so badly that I could buy a house and get settled in the city," Xiaoli told the newspaper. Now, he and several colleagues are sharing a house provided by their boss.
He knows well it is not easy to buy a house in the city, but remains optimistic: "I believe I can make more money in the future, after all I am very young."
"With my parents' financial help, a house should be affordable, in a few years," he added.
Hard working
The survey showed that the young blue collar workers face a working day of more than nine hours, and working overtime is quite common.
Less than 20 percent are able to work no more than eight hours a day. Every month, they can take 3.7 days off on average. Driver, courier, masseur and real estate agent are among the professions with highly intensive workloads.
Working more than 11 hours a day, Xiaoli seldom asks for leave and manages to earn 3,000-4,000 yuan (US$450-600) a month. During the recent Mid-Autumn Festival, he volunteered to work because he could make more money during the holiday.
About 70 percent of his colleagues who are not Nanjing locals chose to work during the holiday which is supposed to provide opportunities for family reunions.
Shi Yan, 20, is a masseuse in a beauty salon. From 9 a.m. to 8:30 p.m., she takes care of her clients warmly and takes only one day off in a week.
"I earned only 50 yuan a day when I was an apprentice three years ago, but now my salary is about 4,000 yuan per month," she said, worrying that she might be fired at any time if her performance is not good enough.
Many blue-collar workers of the post-95 generation find the pressures they face mainly involve economic and psychological issues. Only 4.1 percent say they feel no pressure at all. About 80 percent live in second-tier cities.
Despite the hard work and pressure, 52.7 percent of young blue-collar workers believe in "no pain no gain", and 47.1 percent have a strong will to start their own businesses eventually.
Barely saving
Life in cities is not very comfortable.
The average salary for young blue collars is 3,000-4000 per month in the first-tier cities like Beijing, and 2,000-3,000 in the second-tier cities, according to the data.
Secretary, security personnel, store owner or manager are among the blue-collar professions with a good return. Kitchen helper and cashier earn the least.
Among young migrant workers, 53.8 percent choose to share a house or an apartment with others, while 3.8 percent rent a basement, which costs less. Those who do not have to rent a house are either living with parents or living in company dormitories.
Besides house rent, the young blue collar workers spend another 1,392 yuan per month on average. Among the surveyed cities, Beijing is the costliest, with other expenditure amounting to1,730 yuan per month. Shanxi Province's Taiyuan City is the cheapest, with extra costs 732 yuan per month.
That explains why the young workers save little. About 44.8 percent save less than 1,000 yuan per month and less than 10 percent save more than 3,000 yuan per month. Compared with white collar workers' consumption, their blue collar counterparts are more conservative.
Job hopping
Many post-95 blue collar workers are dissatisfied with their jobs. They quit when they feel they have reached a dead-end and promotion is beyond hope.
Job-hopping is frequent in professions that have a low threshold; jobs requiring special skills are comparatively more stable.
The survey showed that, on average, young blue collar workers change their jobs every 3.4 months, and male workers are more likely to have such a plan. What's more, about 18.3 percent of the surveyed aged under 20 resigned within three months and the percentage for those aged above 20 reached 10.3.
For 21-year-old Zhang Qi, it seems easy to find a new job. He has been promoting financial products for a company in Wuxi, Jiangsu Province for a year. This is the job he has kept for the longest time in the past five years.
"I can't remember how many jobs I tried and quit," he said, not sure how long he will keep the current one, yet dreaming of a decent white collar position someday.