Chemical gas attack kills 7 in Syria's Aleppo
Xinhua, August 5, 2016

Adjust font size: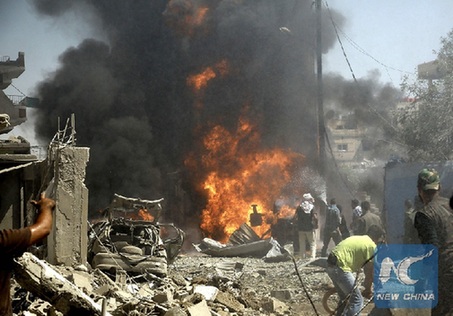 Residents gather at the site of a bomb attack in Syria's northeastern city of Qamishli on July 27, 2016. A massive bomb blast claimed by the Islamic State group killed at least 44 people and wounded dozens in the Kurdish-majority Syrian city. (Xinhua) 
Seven people were killed and 20 others suffered suffocation and breathing difficulties from chemical gas attack in Aleppo, state news agency SANA said on Wednesday, citing a Russian observation center.
The Nour Addien al-Zinki rebel group on Monday fired rockets filled with poisonous gas on the government-controlled Salahuddien district in Aleppo, said the report.
Russia had informed the U.S. about the rebel use of poisonous materials in Aleppo, reported SANA.
Meanwhile, the rebels also accused the government on Tuesday of dropping barrel bombs stuffed with chlorine gas on the rebel-held town of Saraqeb.
Both sides have repeatedly traded accusations about the use of chemical materials in the battles.
SANA said seven people were killed and 41 others wounded on Wednesday by fresh rebel shelling on the government-controlled parts of Aleppo.
Aleppo has seen intensified battles and violence recently with the government troops tightening the noose on the rebel-held areas in the eastern part, while the rebels unleashed several offensives to break government siege on rebel-held areas.
SANA said the air force carried out 100 airstrikes on rebel positions in the countryside of Aleppo on Wednesday, managing to foil a wide-scale offensive of the rebels, the third to hit within a couple of weeks.