China takes center stage to fight land degradation
China Daily, June 21, 2016

Adjust font size: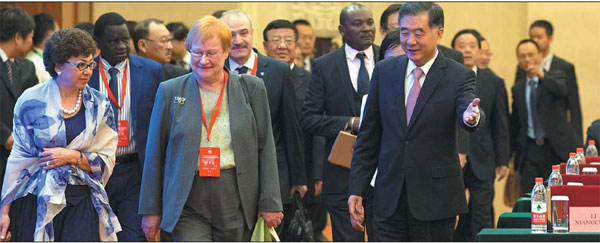 Vice-Premier Wang Yang (first right) meets with representatives from around the world during the "Belt and Road" Joint Action High-Level Dialogue on Friday. Photos By Feng Yongbin / China Daily
Country expected to tackle desertification along the Belt and Road.
China has vowed to step up its efforts to tackle desertification and land degradation, following calls from countries along the Belt and Road for joint action on what is one of the modern world's most challenging issues.
Zhang Jianlong, head of the State Forestry Administration, said by the end of 2020, a total of 100,000 square kilometers of sandified land will be improved.
"We will tighten regulations dealing with water resources, grassland protection as well as the economic development of sandy areas," said Zhang.
Zhang Yongli, deputy head of the State Forestry Administration said: "We will also adopt a 'zero tolerance' attitude towards any illegal actions that result in the destruction of the desert ecosystem.
"In addition, we will draft plans to implement new projects along the ancient Silk Road."
Zhang made his remarks during the "Belt and Road" Joint Action High-Level Dialogue, which was held on Friday, the 22th World Day to Combat Desertification.
The Silk Road has long been an important route for trade and cultural exchanges.
However, countries along the Silk Road continue to be impacted by desertification and land degradation, resulting in part from spreading dust and sandstorms from the northern part of Africa.
For an example, 90 percent of Mongolia's land is vulnerable to desertification and land degradation.
Sedat Kadioglu, deputy undersecretary at the Ministry of Forestry and Water Affairs for the Republic of Turkey, said that each year Turkey loses more than 10 million hectares of agricultural land, and witnesses the degradation of 5.2 million hectares of forest land.
"Almost one billion people have lack of access to enough food due to the reasons related to land degradation," said Kadioglu. "Unfortunately, the ones who suffer greatly from this situation are the less developed and developing countries."
China is expected to play the leading role in the battle against land degradation along the Silk Road.
Kim Yongha, deputy minister of the Republic of Korea Forest Service, said he believes that China's robust will to implement initiatives is crucial, adding that the country should play the leading role in their implementation.
Diego Moreno, Secretary of Environmental Policy, Climate Change and Sustainable Development at the Ministry of Environment and Sustainable Development of Argentina, said Argentina shares with China a deep interest in addressing the issue of desertification in a definitive and efficient way.
"It is important to remind all of us that poverty eradication is still our most demanding challenge. Poor people live mostly in dry, degraded lands with the least resources," said Tarja Halonen, the former president of Finland.
"I am convinced that we will be able to eradicate poverty by 2030, as we were able to halve the number of poor people well before 2015," she added.
Zhang Shigang, country coordinator of the United Nations Environment Program China Office, said desertification is a big challenge for the international community and tackling it is the key to sustainable development.
Agi Veres, acting resident representative and country director in China, United Nations Development Program, said they will work hard to cofinance to support land restoration.
Monique Barbut, executive secretary of United Nations Convention to Combat Desertification, said she encourages China to achieve land degradation neutrality and ensure it becomes humanity's defining achievement in the 21st century.