Forum seeks to understand China factor
China Daily Africa,May 12, 2016

Adjust font size:

Dialogue aims to strengthen partnership in private sector to unlock Africa's development

In a bid to enhance the impact of China's growing presence in Africa, a dialogue forum has been developed to address barriers that continually hinder private partnerships, seen as the key to the continent's industrialization.


A report by the Oxfam International Liaison Office to the African Union says the platform is a multi-stakeholder forum expected to generate knowledge, inform and influence policies and practices by focusing on sustainable development goals, climate change, agricultural development, peace and security.


"Although the fast-growing China-Africa partnership is actively promoted and encouraged by African governments, it is diversely appreciated and understood by other stakeholders. Thus the need for a constructive engagement and dialogue by citizens, policy-makers and researchers," states the maiden report which was made available to high-level delegates in Dakar, Senegal, during the week-long Africa Development Week, organized by the United Nations Economic Commission of Africa.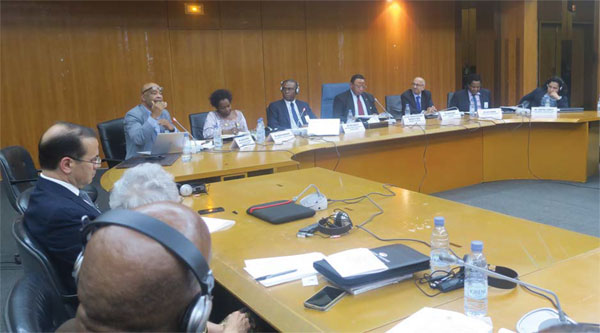 A roundtable discussion during the joint AU and UNECA annual meeting that brought together ministers and experts on finance, monetary affairs, economic planning and integration in Dakar, Senegal. Lucy Morangi / China Daily
The platform was officially launched in March last year in Addis Ababa, Ethiopia. However, over the last three years it has built on the success of the Forum on China-Africa Cooperation summit held in South Africa in 2015. It has therefore routinely brought together government representatives, the United Nations, embassies, the AU, international organizations, civil society and the media to aggressively deliberate on areas of concern that can ensure Africa identifies opportunities made available by China to make the continent a stronger player in the global landscape.

"While Africa currently contributes a miniscule share in China's total global trade, growing Foreign Direct Investment into Africa and infrastructure development partnerships are set to change that. China is one of the largest financiers and developers in Africa," states the Africa-China Dialogue Platform report.

It comes at an opportune time when Africa is exploring ways in which the continent can accelerate its industrialization and infrastructure development ambitions to cater for the bulging youth population that is becoming a social and economic concern.
Referring to China's industrial success, Frederick Muusiiwa Mukamure, president of United Nations Economic and Social Council, says China's engagement with the continent needs to be widely understood to unlock areas of cooperation. "What Africa needs to do is develop synergies with China to push forward its continental growth in line with Agenda 2063," says the president.
The president says the continent is witnessing deindustrialization - a decline in industrial activity. Nevertheless, countries such as Ethiopia have emerged as success stories by pursuing a 'looking east' policy.

"African governments need to identify areas that they agree with China and develop them. The win-win policy benefits all," says Mukamure.

Quoting Arkebe Oqubay, minister and special advisor to the Ethiopian Prime Minister, the report states that in the recent past, 50 percent of infrastructure in Africa has been made possible by Chinese firms and the country's financial support.

"China is a major global player on issues of climate change and in contributing to peace and security. Africa needs China's support in the calls for UN reforms," says Oqubay, who adds that the dialogue platform is important in correcting negative media coverage of the Africa-China relationship. According to him, the platform should assist in highlighting issues that have to be balanced in the relationship in order for it to improve and work better for Africa.

He urged African governments to ensure that they draw up development plans to aid Chinese investment on the continent. Often, he says, African host governments fail to put in place the required legislative framework to accommodate the investment. Nor do they have clear plans and programs that enhance human resource development to ensure that skills can be transferred and retained in Africa.

"The Chinese development path is a very interesting one that Africans should study and emulate. However, Africans should understand that the Chinese context is different and should never be mimicked," the report quoted Oqubay as saying.

According to the Economic Report for Africa 201, the continent has so far followed its own urbanization path, which is weakly linked to structural transformation, resulting in the loss of many opportunities for enhanced growth and productivity, poverty reduction and social development.

"Urbanization in many African countries has not been driven by improving agricultural productivity," says the report. "Most countries are urbanizing rapidly amid declining or stagnant industrial output and low agricultural poverty," it says.