Full text: ADB specialist's speech at China Poverty Reduction Int'l Forum
chinagate.cn, May 12, 2016

Adjust font size: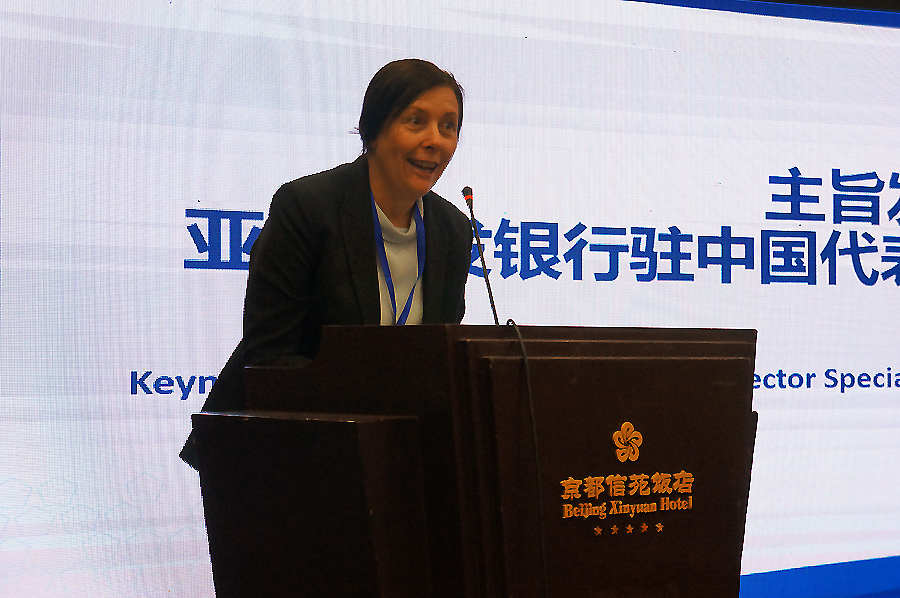 Irene Bain, Social Sector Specialist, PRC Resident Mission, Asian Development Bank. [Photo by Xu Lin / China.org.cn]
Irene Bain, Social Sector Specialist, PRC Resident Mission at Asian Development Bank gave a keynote speech at 2016 China Poverty Reduction International Forum & Launching Ceremony of Global Poverty Reduction and Inclusive Growth Portal on May 8, 2016 in Beijing. Here is the full text of herspeech.
Your excellencies,
As an IPRCC Board Member, ADB is honored to partner in developing the Global Poverty Reduction and Inclusive Growth Portal being soft-launched today.
This portal is important for a number of reasons:
First, over three decades of rapid economic growth have lifted millions of people in the PRC from absolute poverty. As a result, the PRC achieved the Millennium Development Goal for reducing income poverty and most other MDGs by 2015.
1. So, clearly, the PRC has important lessons to share from its past poverty reduction experience. This is a first reason why the portal matters.
Nevertheless, the PRC still has a significant national concentration of extreme poverty, perhaps the second-largest globally after India. Its earlier success in eliminating widespread poverty has revealed the sort of geographically concentrated, hard core poverty which proves difficult to address even in advanced economies. And though some locations may have rich mineral, energy, water, land, scenic, biological, carbon sink, or cultural resources, they still struggle to spread their environmental benefit streams across local populations. They may be located in fragile mountain ecosystems on the headwaters of major rivers that provide millions of downstream domestic and international users with clean water and energy. Or they may be in arid areas prone to natural disasters and growing climatic instability.
2. So we can also see that the PRC continues to face problems of rural poverty and development and that it is continuing to create new lessons for poverty reduction. This is a second reason the portal matters.
In addition to these lagging rural area problems, however, newer forms of relative social disadvantage, exclusion, and risk are emerging or gaining attention in the PRC. These include populations across the country that are economically vulnerable. They oscillate around the poverty line and risk return to poverty through shock to their livelihoods or laboring capacity, such as from unexpected illness and treatment costs or even market failures. Moreover, the non poor can also enter poverty through unanticipated economic changes, including job loss. And there are millions of PRC rural migrants and land-lost farmers living in urban areas with many in substandard rental housing and with inadequate social service entitlements and benefits. Selective out-migration of the able bodied, together with rapid demographic change, has also left many rural elderly more vulnerable. And millions of children of migrant laborers remain in rural areas, often without adequate family or social support. Women are also disproportionally represented among urban and rural low-income groups.
3. So, a third reason for the portal's importance, is that the needs of these diverse, impoverished, or newly at-risk populations are not just significant for the PRC. They also speak to changes occurring across our region in response to economic, demographic, and environmental changes.
The PRC undertook its first poverty reduction program in 1986. The current poverty reduction Outline concludes in 2020. This is also the year in which the PRC aims to achieve a Moderately Prosperous Society. But what will be the role for the poverty reduction program beyond 2020 and within the context of the Sustainable Development Goals? The PRC's Going Abroad campaign? And the more integrated management of relative poverty?
Should the program become a lagging-region development authority? Streamline rural and urban poverty reduction work? Or increase engagement in overseas development administration? The PRC will conduct a midterm review of the Outline to explore longer-term issues for the 2020–2030 program.
4. So, A fourth reason for the portal's importance is that future directions in the PRC's poverty reduction activities will be decided in the next several years. These choices are significant, not just for the PRC, but internationally also.
And this brings us to the topic of Going Abroad. It's not just companies or students that go abroad. As the PRC assumes a greater role in shaping institutions for development and funding development programming, the importance of development knowledge sharing and knowledge partnerships is also coming to the fore. This is what ADB calls Finance++, or Finance plus knowledge plus partnerships.
5. And this is a fifth reason for the portal's importance. Poverty reduction funding alone may be insufficient - or even unsustainable - without knowledge inputs and outputs, including through platforms like this.
ADB has built this thinking into its first country knowledge plan for the PRC. This was launched in 2016 as part of our new PRC country partnership strategy to 2020. It is also the basis for ADB's Regional Knowledge Sharing Initiative. Our in-country knowledge plan helps to develop mature PRC lessons and cases for the Regional Knowledge Sharing Initiative to transmit abroad, and also to introduce relevant international experiences.
6. And this is my sixth, and final point, on the importance of the platform.The IPRCC platform can also play an important role in two-way knowledge sharing.
This is particularly important for the PRC but also elsewhere in the region. Busy development officials and researchers do not always have the time or resources to read deeply about the development literatures of other countries. Why?
Let me again share six possible reasons: First, it's difficult to select what matters most among the mass of materials available. What's authoritative? Representative? Or relevant? Whose judgment do I trust to lead me through other countries literature? Second, is the material in a language that I can read? And, Thirdly, even if I can read the translation does it make sense? Fourth, I'm busy, is there a short summary? Fifth, can I find the material again? And sixth, if it's useful, how do I easily contact the authors? Here is where the platform comes in. And it is also where our next speaker comes in.
I'm pleased now to turn you to Gladys H. Morales, the ADB supported Poverty Think Tank Program Coordinator. Gladys has been central to fostering this shared knowledge endeavor.
And, as I conclude, may I again congratulate you all on the launch of this portal!
I look forward to learning from your rich poverty reduction experiences, both today, and as a regular reader of the updated Chinese and English content going forward. The portal belongs to all of us here today. Let's help keep it working!
Thank you!