Shenzhen vows public safety drive
China Daily, February 1, 2016

Adjust font size:

Shenzhen is to set up a 15 billion yuan ($2.2 billion) fund to improve public safety, part of efforts to build a modern, international city.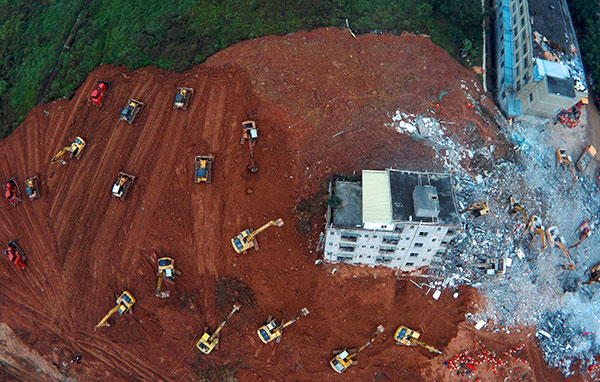 Rescue work continues in Shenzhen, Guangdong province, after a huge landslide of dirt and construction waste buried buildings on Sunday. [Photo/Xinhua]
This year, officials have vowed to step up checks to spot and remove potential hazards such as sites used to dump construction waste and landfills, according to a government work report.
"We'll make efforts to deal with the 'diseases affecting the city' and enhance our ability to ensure public safety based on precise management," Mayor Xu Qin said when he delivered the report at the opening of the annual local legislative session on Sunday.
On Dec 20, a landslide in Shenzhen caused by the illegal dumping of construction waste killed more than 70 people and destroyed or damaged 33 buildings.
After three decades of rapid economic development, Shenzhen, an industrial metropolis in Guangdong province, now faces a series of challenges, not least from the huge amount of waste created by the building of new properties and the city's subway network.
Hidden danger
Political advisers say the urban management system needs to be improved so that the city can achieve sustainable development.
"With the acceleration of the urbanization process, construction waste has become a hidden danger, as evidenced by the landslide in Guangming New District in December," said Zhang Yuqiang, a member of Shenzhen committee of the Chinese People's Political Consultative Conference, the nation's top advisory body.
The large-scale construction of underground parking is one of the main concerns, Zhang told China Daily, adding that the "root cause lies with regulation".
He said that, due to the tight controls on property companies or individuals changing the stipulated usage of a plot of land, "many developers are choosing to expand underground parking areas, which results in a large amount of construction waste".
Zhang, a top policy adviser on housing and construction, has suggested the city amend the regulation to encourage developers to build above-ground parking, which is less costly and more environmentally friendly.
Main focus
In recent years, China has produced an annual average of 1.55 billion to 2.4 billion metric tons of construction waste, accounting for 40 percent of all urban waste, according to an industry development report published in March.
Shenzhen CPPCC member Li Zhen has also urged the city government to improve urban management by allowing greater participation by social organizations, which "need our full support to ... develop healthily and provide a basis and guarantee for innovation in urban management".
Shenzhen's main focus will be urban management and governance in 2016, according to Dai Beifang, the city's top political adviser.
"We'll focus on the consultation and supervision of urban management and governance issues, organize CPPCC members to carry out more research, find any shortcomings, and give useful suggestions and advice," he said at the opening of the second session of the local CPPCC on Friday.