China launches 1st WB trust fund to end poverty and promote development
chinagate.cn, July 17, 2015

Adjust font size: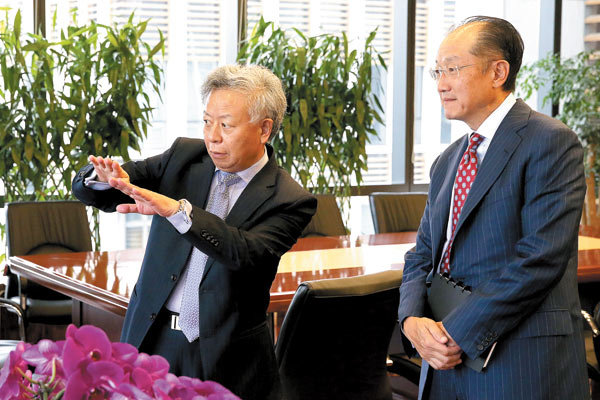 Jin Liqun (left), secretary-general of the Asian Infrastructure Investment Bank's Multilateral Interim Secretariat and China's nominee for president of the bank, holds talks with World Bank President Jim Yong Kim on Thursday. Wu Zhiyi / China Daily
World Bank Group President Jim Yong Kim Thursday praised China for its growing role in global development in meetings with Premier Li Keqiang and other senior leaders including Finance Minister Lou Jiwei and Governor Zhou Xiaochuan of the People's Bank of China.
On the first day of his two day visit, President Kim had a far reaching discussion with Premier Li Keqiang on the global economy, development finance and China's health reforms.
In a separate meeting today, President Kim and Finance Minister Lou Jiwei signed an agreement to establish a $50 million fund to help reduce poverty. The World Bank President also met with leaders of the Multilateral Interim Secretariat for Establishing the Asia Infrastructure Investment Bank (AIIB) to discuss closer collaboration.
These initiatives reinforce the growing partnership with China, which already is the Bank's third-largest shareholder and an important contributor to IDA, the institution's fund for the poorest, as well as the Global Infrastructure Facility.
"China is a strong partner in development and a strong partner for the World Bank Group, and we share the commitment to ending poverty and boosting shared prosperity," said President Kim. "I look forward to a continued strong, cooperative, and productive relationship, which will benefit developing countries around the world."
The trust fund, which is expected to start later this year, aims to enhance the cooperation between China and the World Bank Group and leverage financial and knowledge-based resources to help developing countries achieve inclusive and sustainable development. It will finance investment projects, operations, knowledge development and human-resource cooperation at both global and regional levels.
"The establishment of this trust fund signals that our partnership with existing multilateral development banks is growing, even as we support new ones. We will continue to partner with the World Bank in fighting poverty and promoting development around the world,' said Minister Lou.
During his two-day trip to China, President Kim also met with Secretary General Jin Liqun of the AIIB Multilateral Interim Secretariat, who has been nominated by the Chinese government to be the bank's President-designate. Both agreed to expand their cooperation and explore opportunities for joint financing of projects in the coming months. The prospective founding members of the AIIB signed the Articles of Agreement last month and the bank is expected to be operational by the end of the year.
"I congratulate Secretary General Jin Liqun and all prospective founding members on the great progress made in establishing the AIIB," said President Kim. "More funding for infrastructure will help the poor, and we are pleased to be working with China and others to help the AIIB hit the ground running."
Secretary General Jin said: "Since the establishment of the Multilateral Interim Secretariat last November, the World Bank has been very generous in sharing its expertise, lessons of experience and global good practice knowledge with the Secretariat. We plan to identify projects for possible co-financing in the fall. Based on my time at the World Bank as an Alternate Executive Director, I am fully confident that such close cooperation between the Banks will lead to improved lives for citizens of our Member countries."
The AIIB Multilateral Interim Secretariat and the World Bank are already working together, having exchanged views on matters such as institutional governance, organizational structure, social and environmental safeguards and procurement procedures.