WB: GDP Growth Nearing 7% is Desirable
chinagate.cn by Victoria Cole, July 2, 2015

Adjust font size:

China's "growth trajectory… is slower but more balanced and sustainable", according to the World Bank's most recent "China Economic Update" released July 1st at a press conference held at the World Bank Office in Beijing.

Representatives of World Bank, Ayhan Kose and Karlis Smits, discussed contents of the 36-page Update and various global economic prospects, namely low commodity prices and high financing cost among developing countries, further in depth at the press conference.

The Update asserts, "Global growth remains broadly on track to reach about 2.8% in 2015, with a modest pickup to 3.2% in 2016-17." For China, GDP growth is expected to slow to 7.1% as of this year and decrease to less than 7% by 2017.

This deceleration is "not unexpected and is desirable from short- and medium-term perspectives, [and] …is consistent with a gradual shift in China's growth model, from manufacturing to services, from investment to consumption, and from exports to domestic spending", the Update says.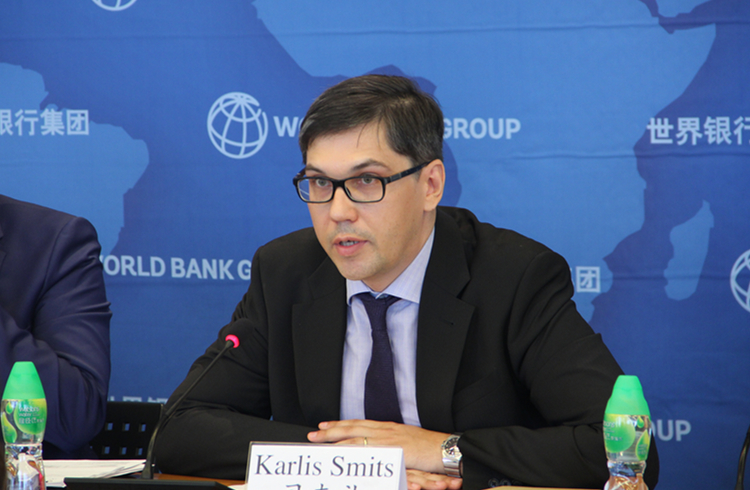 Karlis Smits, main author of the June 2015 China Economic Update and World Bank Senior Economist, presenting findings at the World Bank Office in Beijing July 1st, 2015. [Yang Xiaoxiao /chinagate.cn]
The Update shared other recent economic developments, including that services and manufacturing fell in terms of growth rate. In the first quarter of 2015, services value added increased by 7.9%, while the industrial industry added 6.4%, falling from 8.4% and 7.6% in the fourth quarter of 2014 respectively.
Several conventional tools, like accommodative monetary policy and fiscal support of infrastructure, will help prevent growth from slowing down too much in the short-term. While the government's polices to slow rapid credit growth, contain shadow banking and limit borrowing by local governments have led to dramatically slower fixed asset investment growth, interventions are being made to unlock new sources of funding.
Despite lesser than normal average disposable income growth for urban households, real growth in average net income fell across rural and migrant households, forwarding inequality, and the annual migrant inflow into urban areas has also decreased almost 50% since 2012. According to the World Bank, "[the] combination… translate[s] into a [wage] adjustment rather than a [job] adjustment in the urban labor market."
In terms of economic prospects, capital misallocation continues to be of concern to the World Bank. "Mitigation of these risks will require – in the short run – a careful balancing act between reform and demand management measures, and – in the long run – adopting a systematic approach to strengthening financial sector discipline", which the Update describes further.
The Update also describes the needs of the transition to the "new normal" - "better allocation of credit to deleverage the economy while maintaining growth, [and the]…sustained productivity growth that demands, however, the cultivation of indigenous innovative capacity."