China National Pavilion Day Marked at World Expo
Adjust font size: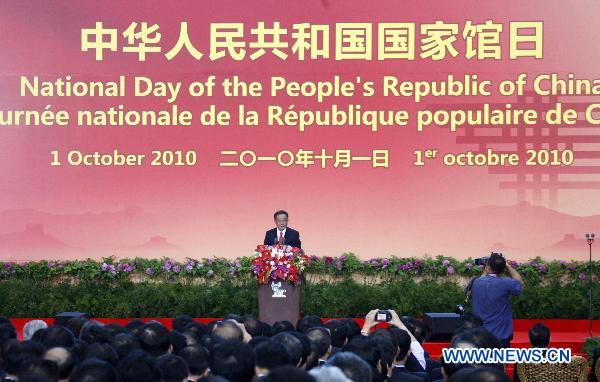 Wu Bangguo, chairman of the Standing Committee of China's National People's Congress, China's top legislature, addresses the official ceremony for the China National Pavilion Day held at the Expo Center in World Expo Park, in Shanghai, east China, Oct. 1, 2010. A series of activities are to be held in the World Expo Park to mark the National Pavilion Day for China on Friday,during the 61st anniversary of the founding of the People's Republic of China. [Xinhua]
The China National Pavilion Day celebrations started Friday, also the 61st anniversary of the founding of the People's Republic of China, bringing the Shanghai World Expo to a climax since the event opened in May.
Top Chinese legislator Wu Bangguo, Vicente Loscertales, Secretary-General of the Paris-based Bureau International des Expositions (Bureau of International Exhibitions or BIE), and many Chinese and foreign dignitaries attended an official ceremony inside the pavilion, marking the beginning of the celebration activities, which will include cultural performances and a pageant of floats in the expo park.
Wu extended gratitude to the governments and peoples of other countries, the BIE and relevant international organizations and all participants, for their great support to the expo.
A flag-raising ceremony was held at the South Square in front of the eye-catching China Pavilion early Friday morning.
"Today is a special day, we will do our best to serve the visitors," said Liu Juan, China Pavilion staff.
The China Pavilion, one of the permanent structures to be kept after the expo ends Oct.31, has become increasingly popular. After being visited by 35,000 people on May 1 when the expo opened, the pavilion had received more than 7.5 million visitors with an average 52,000 visits a day.
(Xinhua News Agency October 1, 2010)