Children Paint for World Peace
Adjust font size: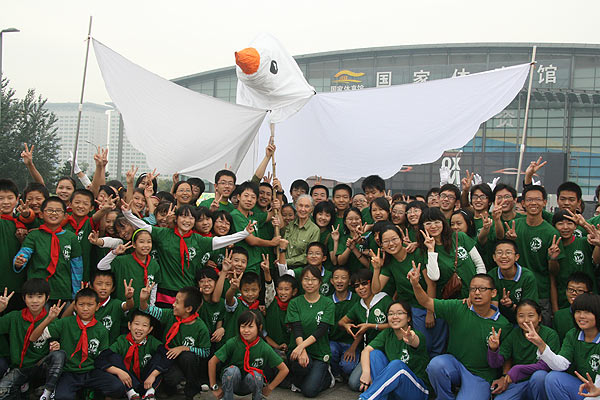 Jane Goodall, center, poses with Roots & Shoots members under a giant white dove made from curtains and sheets. [CnDG by Jiao Meng]

More than 200 students from across China gathered Sunday in Beijing Olympic Park to celebrate the upcoming World Peace Day.
Organized by the China branch of the Jane Goodall Institute, students from Roots & Shoots groups finished a long painting expressing hope and peace.
After that, in a formation spelling out "peace", they sang and danced to "Heal the World", guided by volunteers who wore white gloves to symbolize the dove.
A giant peace dove made from reused curtains and sheets soared across the park, part of the Giant Peace Dove Campaign started by Dr. Jane Goodall, the well-known British scientist-activist.
"Peace is not only … peace between people," Goodall said. "We should remember that another kind of peace is the peace with our Mother Nature."
"If we forget, the war in the future will be caused by fights for drinking water and food, instead of oil and territory."
World Peace Day is Sept. 21.