China's Grain Market Stable
Adjust font size: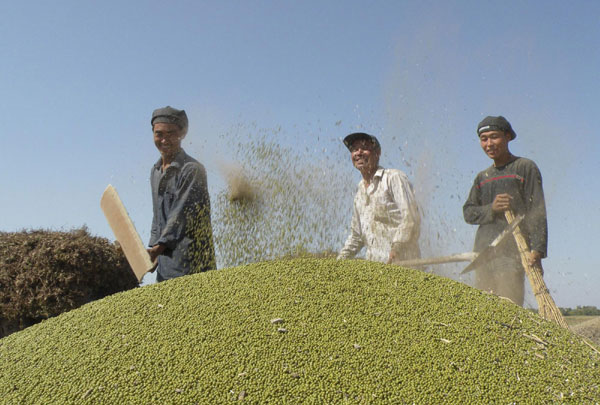 Farmers winnow the newly-havest mung beans in Tailai, northeast China's Heilongjiang Province on Monday.[Xinhua] 
China's grain market won't see drastic fluctuations as a good harvest is expected this year, a senior economic planner said Tuesday at the World Economic Forum's annual Summer Davos meeting.
"The supply and demand of grain remain balanced, which will ensure a stable grain market," said Zhang Xiaoqiang, deputy director of the National Development and Reform Commission.
According to Zhang, if no major natural disasters occur, China is able to achieve a good harvest this year as autumn crops are growing well with an expansion in planting area from a year ago. The summer grain production also has maintained at a year earlier level.
China's grain output reached 530.8 million tons in 2009, the sixth consecutive year of growth in grain yield.
In the wake of a severe drought in China's southwestern regions earlier in the year, summer grain output stood at 123.1 million tons, down 0.3 percent from a year ago.
Zhang also emphasized on China's capability of grain price control, as the country has maintained its grain inventory to consumption ratio above the international safety line of 18 percent.
Besides, China's domestic grain market is not vulnerable to international influence, as the country only imports a small part of the wheat, corn and rice supply -- less than 1 percent of its own yield, Zhang added.
However, he admitted that with China's growing population and living standard, the country's grain safety is likely to be threatened by the rising demand and more constraints to output increase.
Chinese government should enhance monitoring over the grain market and the price level to maintain its stability, he said.
(Xinhua News Agency September 15, 2010)