ACWF Holds Activity to Mark Children's Day
Adjust font size:
The All-China Women's Federation (ACWF) invited children from the quake-stricken Qinghai area, Xinjiang Uygur Autonomous Region, and Beijing to China Children's Center Sunday to participate in activities to mark the upcoming Children's Day.
On behalf of the children in quake-hit Qinghai Province, Caiwen Qiongcuo delivered a speech to express heartfelt thanks to the people who helped after the disaster, and she also mentioned how anxious she was to share her Beijing experience with her classmates.
ACWF President and vice chairwoman of the standing committee of the National People's Congress Chen Zhili spoke with the child representatives and gave them holiday gifts.
After that, accompanied with child representatives, Chen visited a children's safety and emergency center, a children's painting group, and a children's low-carbon invention show.
The event concluded with singing and dancing in the square.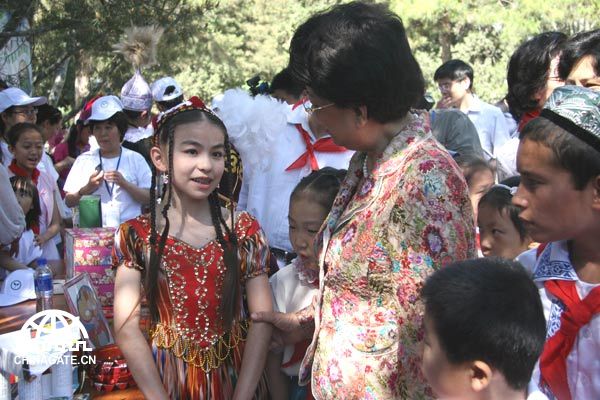 Chen Zhili (C) encourages a girl from Xinjiang to study hard. [CnDG by Jiao Meng]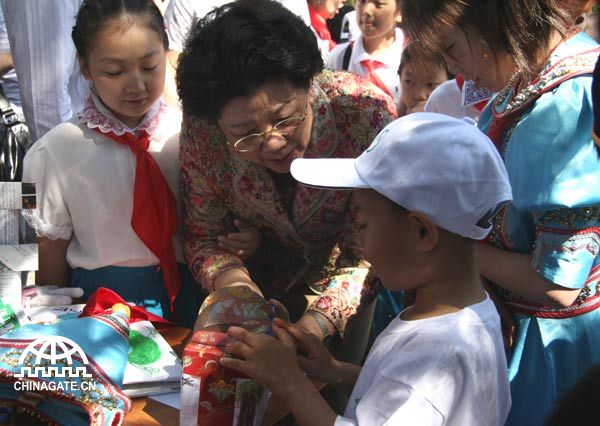 Chen Zhili (C) visits the children's low-carbon invention show. A kid demonstrating to her his hand-made CD storage made from a tissue box. [CnDG by Jiao Meng]