China Makes Example for All Developing Countries
Adjust font size: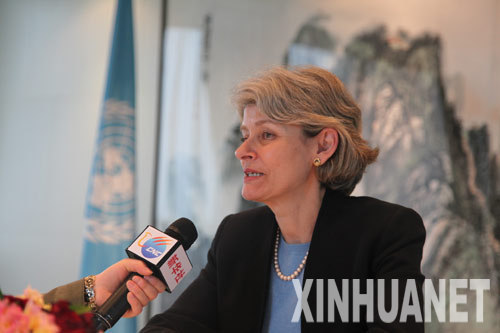 The UNESCO Director General Irina Bokova gives an exclusive interview to Xinhua on May 11, 2010. [Xinhua] 
The efforts made by China on its course of development has made it a successful example for other emerging countries, the UN Educational, Scientific and Cultural Organization's chief said to Xinhua in an exclusive interview Tuesday, four days before her trip to China and the Shanghai Expo.
The UNESCO Director General Irina Bokova will pay a working visit to Shanghai and Beijing from May 16, during which she will have a two-day stop for the Shanghai Expo, which has opened doors to the public on May 1.
"We've seen the efforts of China, which are spectacular in all areas of development ... it also shows that with political will, with the efforts of an entire people to focus on development, it is possible to overcome certain difficulties," she said.
She praised China's "very impressive" development and said China should also share its experience with other developing countries because it "is a good example that can bring millions of people out of poverty by adapting to a globalized world."
Additionally, she encouraged China to engage more into UNESCO affairs in Africa and in Asia on educational domain.
As to the Shanghai Expo, the UNESCO has set up its own pavilion at the Expo site and Bokova herself has personally planned diversified activities, lectures and conversations at the pavilion to provide platforms for idea exchanges with Chinese people and foreign visitors, the veteran diplomat told Xinhua.
The Shanghai World Expo "gives an opportunity for all countries and all organizations to make a sort of communication on their values and their activities," she said, seeing it "a great event for China and for the entire international community."
Bokova is expected to launch a UN report on cultural diversity at the UNESCO pavilion, which is specially designed to focus on material and immaterial cultural heritages, education issues and scientific topics including climate change, water management and etc.
She spoke highly of the great effort made by the Chinese authorities to organize the World Expo in Shanghai.
"I know that the 'motto' of this exhibition is about urban ( Better City, Better Life). We already know that 60 percent of the world population live in cities, the figure rises almost all the time. Some projections say that in fifty years there will be 80 percent of the world population live in cities," she indicated.
According to the director general, the UNESCO is seeking answers through its experiences to some difficult issues that are associated with globalization and interconnectability of the world in the fields of culture, science and especially the education.
She underlined that education and personnel training was the key factor to make a nation "competitive" and have "sustainable development."
At last, the UNESCO chief issued a friendly message to China and Chinese people, saying China is a very old nation "with ancient roots very deep into all the culture of humans" and it meanwhile "shows the dynamism and creativity, which are examples for all the world."
"I think China has proved that there are no limits, there is no problem that can not be overcome," she concluded.
(Xinhua News Agency May 14, 2010)