Death Toll Rises to 791 in China Quake
Adjust font size: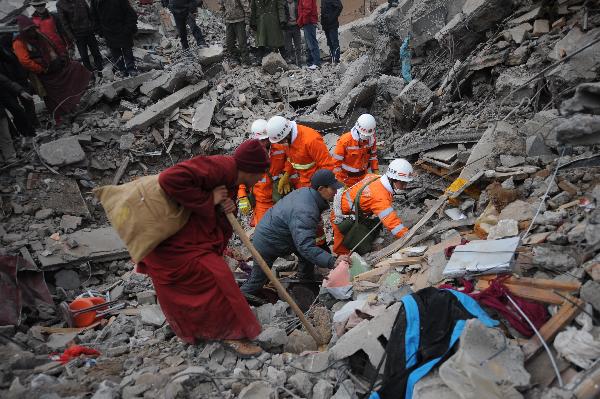 Rescuers and volunteers search for survivors among debris in earthquake hit Yushu County of northwest China's Qinghai Province, April 16, 2010. The rescuers have been doing unremitting efforts to save people's lives during the "golden 72 hours" since the 7.1-magnitude quake struck Yushu early Wednesday. [Xinhua]
The death toll had climbed to 791 and another 294 people remained missing as of 8:00 AM Friday, 48 hours after a devastating earthquake shook a Tibetan area in northwest China's Qinghai Province.
The 7.1-magnitude earthquake, which shook the Yushu County in the Tibetan Autonomous Prefecture of Yushu at 7:49 AM Wednesday, has left 11,486 people injured, including 1,176 serious cases, said Xia Xueping, spokesman with the emergency rescue headquarters in Qinghai Province.
Many people are still buried under the debris of collapsed houses in the hardest-hit Gyegu Town near the epicenter, the seat of the Yushu prefecture government and home to 100,000 people. It sits at about 4,000 meters above sea level.
More than 85 percent of houses in Gyegu, mostly made of mudbrick and wood, had collapsed.
Rescuers are racing against time hoping to reach the trapped by Saturday morning, the end of internationally accepted "72-hour golden chance" for the trapped to still survive.
Thousands of professional rescuers, soldiers, police officers, fire-fighters and medical workers have been mobilized nationwide to the quake zone, fighting altitude sickness, chilly weather, strong winds and frequent aftershocks to find survivors and treat the injured.
As of Friday morning, about 500 injured residents had been transported to the provincial capital Xining, Chengdu in Sichuan Province, and Lanzhou in the neighboring Gansu Province, for better treatment, said Xia.
"We're working all-out to restore and rebuild infrastructure in the quake-hit areas, and provide whatever is necessary to sustain the people's lives," he said.
(Xinhua News Agency April 16, 2010)