2nd Medical Team Lands in Haiti
Adjust font size: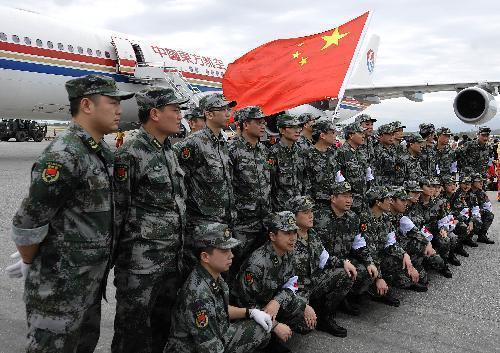 Members of the Chinese medical care and epidemic prevention team pose for a group photo at an airport in Port-au-Prince, capital of Haiti, on January 25, 2010. The 40-member Chinese medical care and epidemic prevention team arrived in Haiti on Monday by a chartered flight, which also carried 20 tonnes of medical supplies. Four Chinese peacekeeping police officers also arrived in Haiti along with them to replace their four comrades dead in the recent earthquake. [Xinhua]
A chartered aircraft carrying a Chinese medical team and aid material arrived at Port-au-Prince, the Haitian capital, to continue helping with the ongoing quake relief efforts there.
The plane took off from Beijing Capital International Airport on January 24 afternoon and landed in Haiti at 2:40 PM of January 25 local time (3:40 AM January 26, Beijing Time).
On board are a 40-member medical and epidemic-control team and 20 tons of food and medical supplies, the Ministry of Commerce (MOC) said.
It is the second Chinese medical team to help quake victims. The first one, a 50-member China International Search and Rescue (CISAR) team, was among the first to arrive in Port-au-Prince after the earthquake and set up a medical center within days of the quake.
The CISAR team will leave Haiti for China Tuesday in the chartered flight.
About 50 Chinese who have been in Haiti during the devastating earthquake will also head for China in the same flight.