China's Aid Materials Reach Haiti
Adjust font size:
The first batch of China's humanitarian aid to quake-hit Haiti has arrived in the country's capital, Port-au-Prince, China Southern Airlines said Sunday.
China Southern Airlines confirmed that its Boeing 747 cargo plane carrying 90 tonnes of emergency materials reached Port-au-Prince safely after a 19-hour flight from Beijing.
The materials worth 13 million yuan (US$1.9 million) include 1,000 tents, water, food, emergency lights, medicines, clothing and water purification equipment.
The aid is part of an relief package worth 30 million yuan (US$4.41 million) announced by the Chinese government Friday.
A group of Chinese personnel greet the rescue and relief goods from China at the airport in Port-au-Prince, Haiti, on January 17, 2010. The goods weigh about 90 tons, and are worth about 13 million Chinese yuan (about US$1.9 million), including drugs, tents, portable lamps, water purifying equipments, food and water, and clothing.  [Xinhua]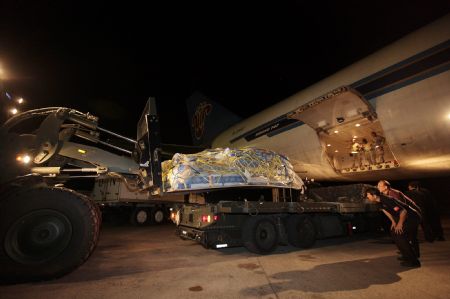 Workers unload the rescue and relief goods from China at the airport in Port-au-Prince, Haiti, on January 17, 2010. The goods weigh about 90 tons, and are worth about 13 million Chinese yuan(about US$1.9 million), including drugs, tents, portable lamps, water purifying equipments, food and water, and clothing.  [Xinhua]
(Xinhua News Agency January 18, 2009)