Escort Mission Returns Home from Somali Waters
Adjust font size: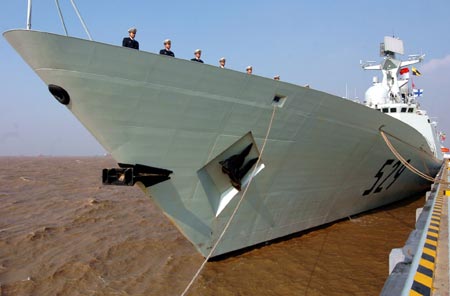 The picture taken on December 20, 2009 shows "Zhoushan" Warship is berthed at a military port in Zhoushan, Zhejiang Province. [Xinhua]
Two frigates with Chinese People's Liberation Army (PLA) Navy returned home Sunday to a naval base in the Zhoushan Islands in eastern China, after escorting close to 600 vessels to protect them from pirate attacks in Somali waters.
The radar-evading hulled FFG-529 Zhoushan and FFG-530 Xuzhou were welcomed at the base by Ding Yiping, deputy commander of the PLA Navy.
The two frigates set sail for the Gulf of Aden on July 16, along with the supply ship Qiandaohu, which stayed on duty in the region.
Together the flotilla cruised close to 166,000 kilometers, about four times as long as the earth's equator, and escorted 582 vessels in its 158-day mission starting from August 1.
Frigates Zhoushan and Xuzhou also visited Singapore and Malaysia, and stopped over in Hong Kong on its way back.
The two frigates were relieved by the PLA Navy's missile frigates FFG-525 Ma'anshan and FFG-526 Wenzhou which departed for Somali waters on October 29.