China to Have 1,027 Rural Banks by 2011
Adjust font size: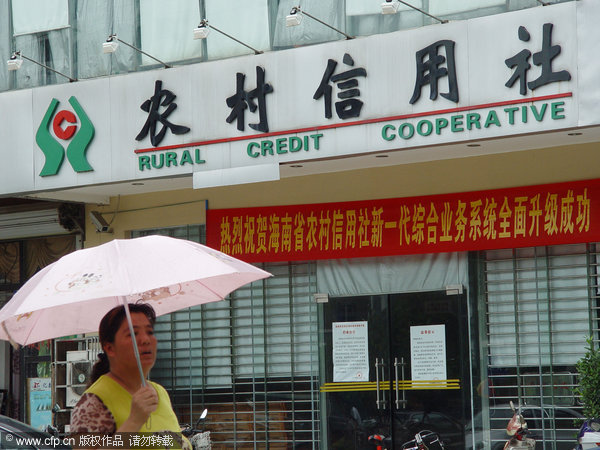 [Shi Yan / CFP]


China plans to increase the number of rural banks over tenfold to 1,027 by 2011 to bolster financial support to less developed areas, the country's top banking regulator said on Wednesday.
The increase will concentrate on counties in central and western China that rely heavily on agriculture and also areas with low financial coverage, the China Banking Regulatory Commission said on its website.
"We are going to introduce more rural financial players into the market to improve competitiveness and add financial coverage in the areas," the banking regulator said.
The country had 100 rural banks at the end of last month, it said.
China began trials for new types of financial institutions in rural areas, such as rural banks and rural lending companies, in 2006.
The new financial services reported a combined profit of 40.74 million yuan (US$5.96 million) so far this year.
The central government is encouraging banks and companies to do financial business in rural areas. Qualified non-financial companies are allowed to set up rural cooperatives to boost the financial industry.
The country is taking a number of measures to support rural economic and social development to achieve a balanced growth between the countryside and urban areas.
China gives subsidies to rural banking nationwide and the Ministry of Finance offers qualified rural financial institutions subsidies equal to 2 percent of their loan books.
The payouts go to rural banks, rural lending companies and rural credit cooperatives that have expanded their overall loans in the previous year and whose loan-deposit ratio was at least 50 percent.
Rural cooperatives also enjoy a lower reserve ratio of 11 percent, which frees more capital for lending.
Future tax cuts for rural banking are also in the pipeline, the regulator said yesterday.
Overseas banks such as HSBC and Standard Chartered Bank have opened rural banks in China while Citi has opened lending companies.
(Shanghai Daily July 30, 2009)