Picture Books Recommended for Kids
Adjust font size: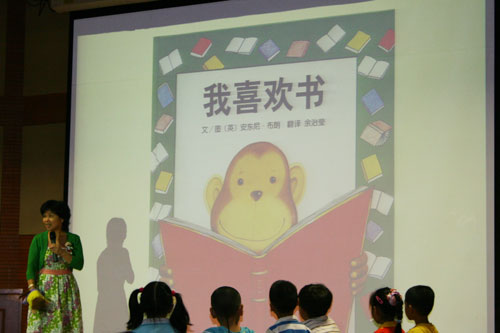 Fang Suzhen, a well known children's book writer from Taiwan shares her experience with audiences on promoting reading picture books during a conference on Friday, June 19, 2009 in Beijing. [CRIENGLISH.com] 
Reciting ancient poems, learning English, playing musical instruments... in China today, pre-school children have a long, long must-do list. Unfortunately, many of them are forced to do all that things by adults instead of enjoying them.
Can parents find something interesting for their kids?
Reading picture books is a wise choice! Educational experts recommended it on Friday during a conference aimed at promoting reading books among pre-school children.
On the same day, a picture book reading center named Weepicture held its opening ceremony in Beijing. The organizers of both the ceremony and the conference vowed to introduce picture books to more Chinese.
Different from common books interspersed with few illustrations, picture books tell stories both with words and pictures, which are easily understood by children who can not read many words.
This kind of books has a century-long history in western countries. But it was first introduced in China at the end of 1980s.
It is a widespread misunderstanding in China that the main purpose of using picture books is to teach vocabulary, said Luo Jie, the vice director of Beijing Municipal Commission of Education.
In his opinion, the more important task is to arouse children's interests about reading and help inculcate the habit of reading, which will benefit them in later life.
To correct that misunderstanding, experts from both the Chinese mainland and Taiwan shared their experiences during the conference in Beijing.
Fang Suzhen, a well known children's book writer from Taiwan believed that the key point is to share the book touched one's heart with his (or her) children or students.
"Somebody asks me how to begin it. Just take a book and do it, no matter you read it, sing it or perform it. But please select your favorite one- the book touched your heart. If the book cannot move you, it will not impress others. " she said.
She encouraged parents as well as teachers to find their own methods of reading instead of seeking an envisioned "best way".
"All the theories in the world are based on our practices. So you can follow my instructions or find your own method. The most important part is to find a different way to share (a book) with your children when you are moved after reading it."
In the last two or three years, more and more publishing houses have joined the team of distributing picture books in China, according to Lin Yun, the vice director of the 21st Century Publishing House.
But they still have a long way to go. A teacher surnamed Dai who came from south China's Shenzhen city complained that selections are limited although so many books are available for sale.
Lin Yun admitted the fact. She said, "We have too many picture books translated from other languages but few good ones written by Chinese writers. The total of our original books is no more than 20 percent, most are imported books."
Lin's company has set up an award to encourage Chinese writers to create more original picture books for readers.
"We hope to see books containing more Chinese cultural elements and contents Chinese children can understand rather than only have Chinese editions of foreign books." Lin said.
(CRIENGLISH.com June 20, 2009)