Raising the Issue of China's Troubled Teens
Adjust font size: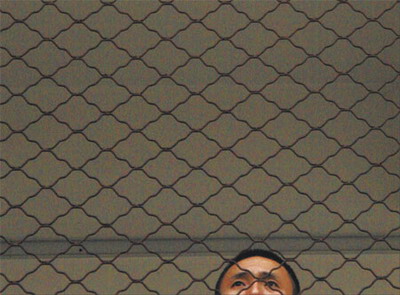 A drug addict looks out of a window at the Xinkaipu Re-education Through Labor Center in central China's Hunan Province on June 19, 2007. The nation's biggest cities have seen a sharp rise in the number of crimes committed by children of migrant workers. [China Daily] 
Their parents have taken them miles from their hometowns as they chase work and have no money to put them into school, leaving them to survive on the streets and become easy prey for small-time crooks looking to expand their empire. So, is it any wonder children of migrant workers are behind the majority of minor crimes in China's biggest cities?
Not for many experts, who say it is time more support services for migrant workers are established to make it easier to care for and educate their offspring, as well as help them stay on the straight and narrow.
The latest study by Beijing Municipal Higher People's Court showed that teenagers without a local household registration were responsible for 40 to 80 percent of delinquency in the city over the past three years.
The findings were based on three district courts for urban and rural areas that had large numbers of migrant workers or a frequent population flow, with researchers choosing 100 cases at random. Most offenders were 16 to 18 years old, had been born to migrant workers in Beijing or had moved there with parents, and had been involved in one of 10 kinds of crime.
"Property infringements, especially thefts and robbery are the most prevalent, while crimes involving assaults and rape are a close second," said the report, which showed that children of migrant workers or second-generation migrants commit 15 percent more "intentional injuries" and 7 percent more rapes.
The situation in Beijing is not an isolated one. In Shanghai, where there has been little change in the number of crimes committed by local youths, offences by non-native teens have risen almost 70 percent between 2004 and 2007, according to a study by the city's municipal higher people's court last December.
It found that Shanghai courts convicted just 800 minors in 1998, but by 2007 that figure had jumped to 2,682. Of those, 1,833 did not have local household registration, while 86 percent did not have more than a junior school education.
Meanwhile, in the cities of Suzhou and Wuxi, both in Jiangsu province, non-native teens committed 87 and 80 percent of juvenile crime respectively, said Chen Jingfang, deputy director of the No 1 criminal law court of Jiangsu Higher People's Court.
And in nearby Kunshan, an area densely populated by migrant workers, Ji Zhen, chief judge of the juvenile crime tribunal, said that figure was more than 90 percent, with almost all offenders from poor families.
Zhang Haitang, vice president of the Shanghai higher people's court, said the increase in juvenile delinquency was connected to the growth of the migrant population -- 6.6 million as of last year, including 604,000 adolescents - with most crimes concentrated in areas where they are known to gather in large numbers.
"Traditionally, community or village organizations specialized in monitoring and helping troublemaking young people, but they are having difficulties in coping with a large number of immigrants," said Zhang.