Chile's President Assumes Power in Austere, Post-quake Ceremony
Adjust font size: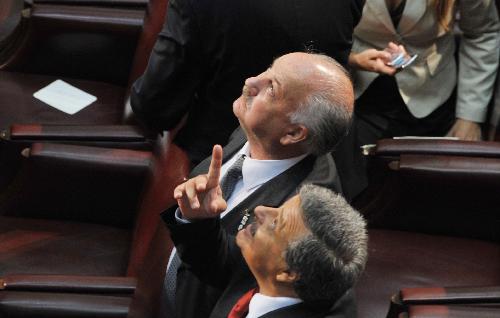 A man points to the ceiling at the Congress house in Valparaiso, Chile, on March 11, 2010. Sebastian Pinera was sworn in as earthquake-stricken Chile's new president during an austere ceremony on Thursday. Outgoing President Michelle Bachelet placed the presidential sash on Pinera's shoulders at 12.18 PM local time, about 40 minutes after strong aftershocks, one of which measured 7.2 on the Richter scale and lasted 45 seconds, rattled the country. [Xinhua]
Billionaire businessman Sebastian Pinera took office as earthquake-stricken Chile's new president on Thursday in an austere ceremony without traditional banquets as in previous inaugurations.
"Traditionally the change of president has been a party, but because of the situation the nation is experiencing, we have sought to change the meaning of the day," Pinera spokesoman Ena Von Baer said Tuesday. "We want Chilians to see us at work on the one hand and on the other feel solidarity both domestically and internationally."
The heads of state and their representatives, already fewer than previous years, that attended the ceremony were asked to leave their spouses at home.
Among the delegates, only Argentina, Colombia, Ecuador, Bolivia, Paraguay and Uruguay sent their presidents, while Spain's heir to the throne Felipe was present.
Chile suffered a strong 8.8 magnitude quake on Feb. 27, killing at least 529 people and flattening around 500,000 houses. It was the worst quake since the one happened in Chile in 1960 disaster, the worst ever recorded.