Last Round of UN Climate Talks Before Copenhagen Begin in Barcelona
Adjust font size: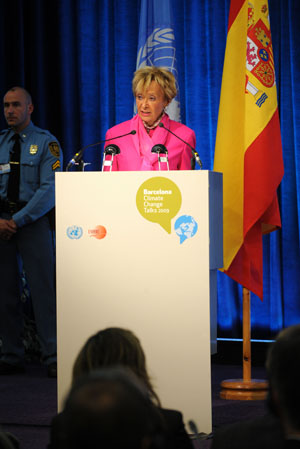 Maria Teresa Fernandez de la Vega, First Deputy Prime Minister of Spain, addresses the latest round of UN climate change talks in Barcelona, Spain, November 2, 2009. [Xinhua]
The latest round of UN climate change talks started Monday, with a leading UN official and other dignitaries calling for urgent action to fight global warming.
The meeting, which drew delegates from nearly 180 countries, is the fifth and final UN session this year to lay ground for December's Climate Change Conference in Copenhagen.
That upcoming meeting is tasked with reaching a new deal on climate change to replace the Kyoto Protocol, the existing binding deal fighting global warming that expires in 2012.
At the opening ceremony of the meeting, Yvo de Boer, the UN climate chief, noted that the fourth UN climate change talks held in Bangkok saw "increasing convergence, streamlining of text and narrowing down of options."
"The good work begun in Bangkok needs to be continued here in Barcelona, especially with regard to preparing the ground for prompt implementation now and up to 2012," he said.
The UN official said developing countries need urgent assistance in climate change abatement. He said that a successful agreed outcome also means clarity on long-term financing and prompt start-up financing at Copenhagen to unleash urgent action in developing countries.
At the same occasion, Connie Hedegaard, the Danish minister of climate and energy, emphasized the importance of sealing a deal in Copenhagen, saying "the world is watching. The world is waiting."
"Our ambition must be not to accept a compromise that comes short of what science has told us in clear and compelling terms: Not to accept some short political statement or hollow declaration," she said.
Spanish Deputy Prime Minister Maria Teresa Fernandez de la Vegaurged both developed and developing countries to join efforts because climate change was the biggest challenge facing mankind and no one can act unilaterally.
"We have resources and means and there are no reason for failure," she said.
During the five-day meeting in Barcelona, about 4000 negotiators and observers will try to draw up a text that will hopefully lead to a final agreement in Copenhagen.
Among the difficulties faced are those of to what levels greenhouse gases should be cut and how much funding developed countries should offer to help developing countries mitigate and adapt to the impact of climate change.
(Xinhua News Agency November 3, 2009)