The 11th ASEAN - China Forum on Social Development and Poverty Reduction opened Tuesday in Siem Reap, Cambodia to share successful experiences and best practices on poverty reduction.
The two-day forum is co-hosted by China's State Council Leading Group Office of Poverty Alleviation and Development (LGOP) and Cambodia's Ministry of Rural Development. Over 120 government officials, experts, scholars, China-invested companies' representatives, NGO representatives and international organizations' officers from China and ASEAN countries attended the forum.
The forum focuses on such issues as China and ASEAN countries' innovation and best practice on ideas and policies for poverty reduction, how to push forward cooperation on reducing poverty between China and ASEAN, and how China and ASEAN countries can achieve the goal set in the 2030 Agenda for Sustainable Development.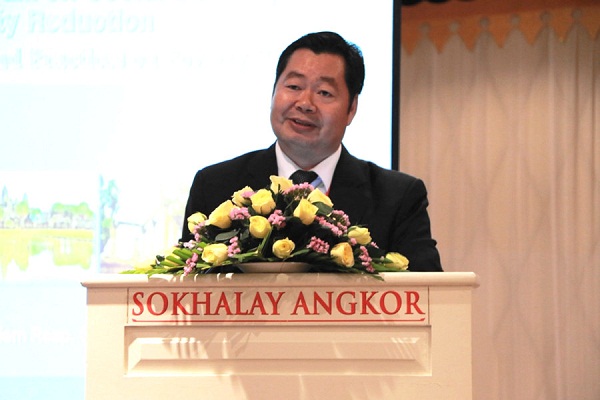 Hong Tianyun, vice minister of China's State Council LGOP, speaks at the opening ceremony. (Photo: Yang Xiaoxiao/chinagate.cn)
Speaking during the opening ceremony of the forum, Hong Tianyun, vice minister of China's State Council LGOP, pointed out that poverty reduction was a common goal for human development and a common challenge for China and ASEAN countries as well.
"Being the world's largest developing country, China has always been an active advocate and powerful enabler of the world's poverty reduction cause," he said.
Meanwhile, Hong shared the Chinese formula in its achieving large-scale poverty reduction along with rapid economic growth.
He said firstly the prerequisite of China's successful practice is upholding reform and opening-up so as to maintain a continuous growth of economy.
Secondly, the guarantee is giving full play to the Communist Party of China (CPC)'s leadership and socialism with Chinese characteristics. Thirdly, governments provide guidance which combines long-term poverty reduction planning with annual poverty reduction objectives.
Fourthly, the strategy of targeted poverty alleviation and reduction should be adjusted and implemented according to different conditions to maintain its effects, and fifthly, the emphasis is given to the market to mobilize social involvement and synergy.
Hong said that in the future cause of poverty reduction, China will continue to carry out this formula and intensify its efforts in this regard so that more poverty-stricken regions and population can benefit from the country's development. Meanwhile, China will continue to work with the international community and contribute to the cause of global poverty reduction.
Hong also stressed that China and ASEAN are linked by rivers and mountains and bound by peoples and cultures as well, adding that this year marks the 50th anniversary of ASEAN and the 26th anniversary of establishing dialogue relationship between China and ASEAN, a milestone in the development of ASEAN.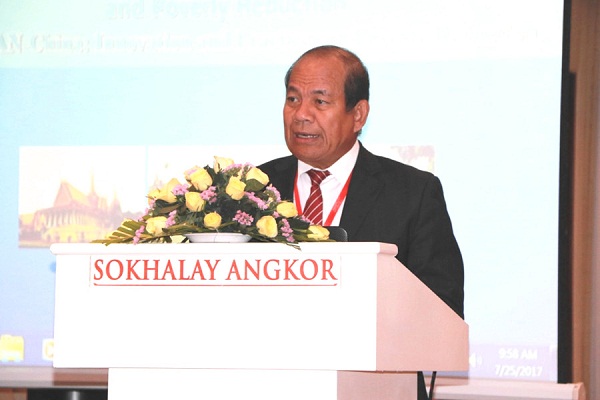 Cambodian Rural Development Minister H.E. Ouk Rabun speaks at the opening ceremony.(Photo: Yang Xiaoxiao/chinagate.cn)
Cambodian Rural Development Minister Ouk Rabun said in his opening speech that the forum was vital for the participants to discuss and exchange views on their efforts in reducing poverty in ASEAN member countries.
"Through the 11th ASEAN-China Forum on Social Development and Poverty Reduction, I believe that we will gain good qualifications, best practices, and new experiences from each other among ASEAN member countries and from China," he said.
During the forum, attendees will join in the discussions concerning China-ASEAN cooperation: innovation and practice on poverty reduction. As an important innovative tool to share knowledge on poverty reduction policies and best practices in China and around the world, the Global Poverty Reduction & Inclusive Growth Portal (GPIG) has drawn wide attention from the attendees at the forum. Initiated by the World Bank and supported by the Asian Development Bank, the website is co-established and operated by the China International Poverty Reduction Center (IPRCC) and China Development Gateway (CnDG).
Meanwhile, attendees will also discuss implementation approaches for China-ASEAN cooperation on poverty reduction, the 2030 Agenda for Sustainable Development, and prospect for China-ASEAN cooperation.
They will also pay a field visit to Run Ta Ek Eco Village on Thursday.