Global solicitation on best poverty reduction practices launched
p.china.org.cn,May 23, 2018

Adjust font size: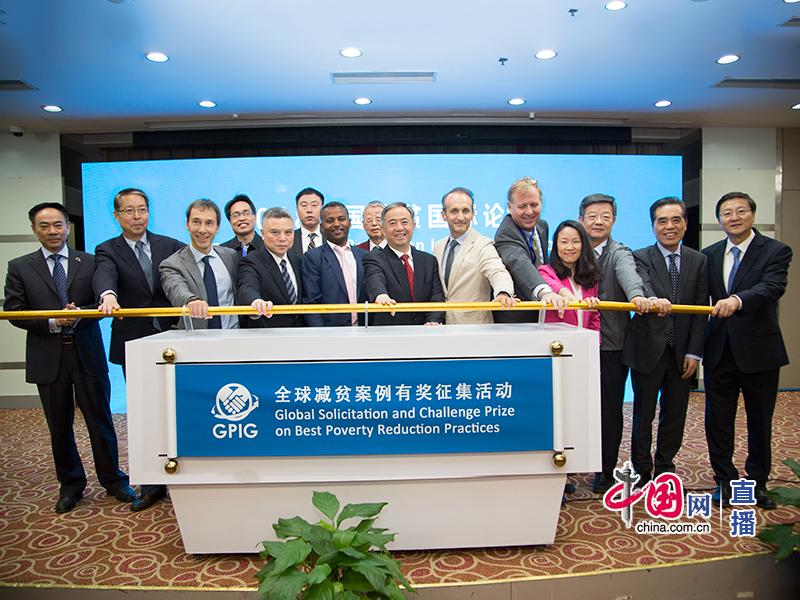 The Global Solicitation and Challenge Prize on Best Poverty Reduction Practices was jointly launched by the China Internet Information Center (CIIC), International Poverty Reduction Center in China (IPRCC), World Bank, Food and Agriculture Organization of the United Nations (FAO), International Fund for Agricultural Development (IFAD), World Food Programme (WFP), and Asian Development Bank (ADB) at the 2018 China Poverty Reduction International Forum.

As the first global solicitation of poverty reduction case studies, this campaign has involved many international organizations, and is the latest attempt to deepen and innovate on global partnerships on poverty reduction.
The campaign is seeking meaningful poverty reduction case studies from both organizations and individuals working around the world in poverty alleviation, and will select 100 most impactful case studies for recognition.
According to the organizers, applicants can submit their case studies either in English or Chinese, with no less than 5,000 words. Participating case studies must fulfill at least one (1) of the following criteria:
1.It must clearly demonstrate results in poverty relief and other relevant effects
2.Demonstrate applicability in the wider poverty reduction context, such as in other geographies or economies
3.Advance the conversation around poverty reduction practices (such as in failed projects or those with mixed results)
Authors should also follow the "Writing Standards of Poverty Alleviation Case Studies" (http://south.china.org.cn/content/index/id/7166.html) in presenting meaningful, clear and concise information.
The campaign will last for three months from May 23 to August 23. A preliminary evaluation committee will select case studies to be submitted to the final selection committee to review. In October the organizers will announce the list of winners. Meanwhile, case studies will be uploaded to the database for public dissemination.
Wang Xiaohui, Editor-in-Chief of CIIC, calls on more people and international organizations to join hands, to share their experiences and provide ideas in improving poverty reduction.
Generating wider attention
Matteo Marchisio, Country Director and IFAD Representative for China and Mongolia, points out that by soliciting best practices and by supporting this initiative, IFAD and other development organizations can raise awareness for the database among both development groups and among developing countries. "If more organizations and more countries can feed the database, knowledge can be shared more broadly," he said.
Zhang Guangping, Deputy Director General of IPRCC, said "Through this campaign we can collect first-rate poverty reduction case studies from around the world, enriching our database and facilitating international exchanges."
Incentivize to learn
Benedict Bingham, Country Director, Resident Mission in the PRC, ADB, believes that this campaign incentivizes people who work in poverty reduction to go through the arduous process of reviewing what they've done, and communicating it to others. "It is setting up incentives for people to collate, distill, package and present the information", he said. "The case studies will all be part of this rich fabric of shared learning that will be important to the government agenda, not just in China but outside of China as well."
Vincent Martin, FAO Representative in China and DPR Korea, stresses the importance of knowledge sharing as well. "Knowledge sharing in poverty reduction is absolutely essential and can happen through dialogues and discussions between countries facing the same challenges. It is based on sharing documented, evidence-based experiences and finding mechanism to localize practices. This is at the heart of the work we are doing with our partners in China and abroad, as a key contribution to reach the SDGs," he said.
Meet the SDGs
Bert Hofman, World Bank Country Director of China, Mongolia and Korea, said "I hope that the challenge prize will inspire many people around the world to share their examples and best practices in poverty alleviation. We are looking forward to seeing these examples and sharing them wider so that we can meet the 2030 Sustainable Development Goals."
Qu Sixi, WFP Country Director in China, also says the campaign is to assemble good practice on poverty reduction from institutions and individuals around the world. "We undoubtedly inspire innovation in this regard, which will contribute to a better world with no one left behind."