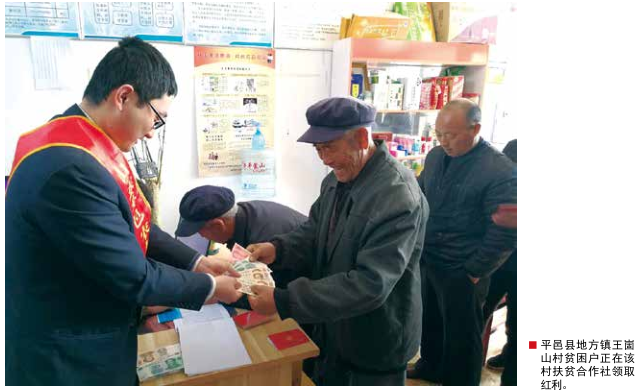 Villagers get their dividend at the poverty reduction cooperative in Linyi.

Linyi, one of the two cities with the largest ratio of poor people in east China's Shandong Province, has implemented bold pilot programs to reduce poverty through financial services.
At Hexing Village in Yi'nan County of Linyi, there is an uplifting story about a filial son named Niu Junxiang. His mother was diagnosed with late stage colon cancer in 2012. He struggled to pay for her medical services and lived a hard life. But in 2016, there came good news. He was entitled to a loan of 40,000 yuan (U.S. $5,996). With this loan, he raised 50 pigs and now earns an annual income of 20,000 yuan (U.S. $2,999).
At Chunshugou Village in Mengyin County of Linyi, half of the 13 households live in poverty. In 2013, a popular documentary A Bite of China was filmed in the village. Since then, tourists have flocked to the village. Liu Zong'an, a villager who was living in poverty, applied for a loan of 50,000 yuan (U.S. $7,497) to invest in rural tourism. His business has progressed well and now brings him an annual income of tens of thousands of RMB. His dream has come true. No longer one of the "poor", he is grateful to the government for arranging his interest-free loan without any collateral.
Improved financial services have transformed the prospects of people like Niu Junxiang and Liu Zong'an. In Linyi, there are many more such examples.
With 442,000 people living in poverty, Linyi still has a long way to go in poverty reduction. In 2016, the city took the lead in launching a number of pilot programs. Based on the principle of "government action, shared responsibility and controllable risks", Linyi provides policy guarantees to ensure risk control in both the government and financial institutions. Through the contribution of both parties, less fiscal resource is leveraged to facilitate financial investment and alleviate poverty through industrial development.
To reduce poverty through financial services, the first step is to improve individual credit ratings. Linyi has set up a special credit rating system to assess the credit status of poor rural households. At the same time, the government is following the principle of shared risks. Last year, provincial collateral companies started to provide guarantees to diversify risks. Risks are shared by guarantee companies, governments and mortgage financial institutions. In addition, Linyi government provides financial support to rural households. There are two ways to obtain loans. The first is "loans to rural households". Such loans, usually less than 50,000 yuan (U.S. $7,497), are provided to poor rural households who can and want to engage in a business activity. The second is "business loans", which usually stand at three to five million yuan (U.S. $450,000 – $750,000). This loan aims to motivate enterprises to help poor rural households increase their income.
In addition, Linyi government also provides interest subsidies. For households who repay capital and interest in accordance with their schedule, the government provides a full interest subsidy. For new types of business entities, a 3% interest subsidy is provided. The loans are collateral and guarantee free, with a low interest rate. Based on a credit rating system, they are subsidized and their risks offset. They play an important role in easing the problems of farmers and reducing the concerns of banks.
Targeted loans have made a substantial contribution to reducing poverty and supporting industrial development. Huanlejia, a fruit processing company in Mengyin County, is a good example. It applied for a three million yuan (U.S. $450,000) loan and helped many local people escape from poverty by providing jobs, supplying seedlings, and spreading technology.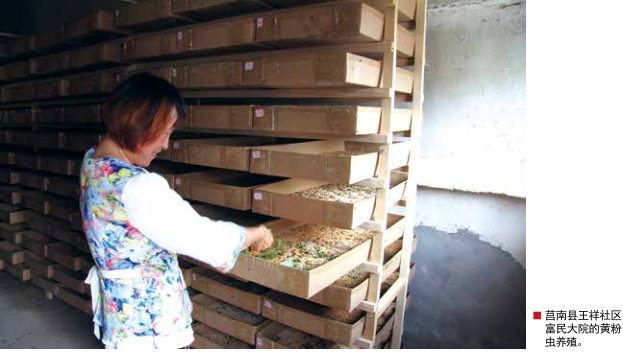 Mealworm breeding in Linyi.

Mengyin government also provides other financial services. This includes a range of loans such as collective loans, PV loans, micro credit to start-up businesses, interest-subsidized loans to SMEs, credit incentives for new rural businesses, and mutual assistance funds. It also includes planting insurance and health insurance. These are commercial insurances designed for poor and vulnerable rural households. As a result the risk of default is reduced and banks are more willing to lend.
Mengyin County is a center of wool rabbits. It has seven million head of rabbits. A rabbit breeder who works with rural cooperatives said that rural commercial banks were designing a new financial product that can compensate for accidental death of livestock. He has high hopes for this product because it can solve the problem of small scale and loss of livestock. It's learned that the government, rural commercial banks and insurance companies were working together with rabbit breeding companies and have signed cooperation agreements.
Continuous innovation of financial products and close cooperation between the government and financial companies has helped to divert financial resources to rural areas that are in great need. Rural areas, farmers and financial institutions can all share common development.