Tibet receives educational donation
china.org.cn / chinagate.cn by Chen Boyuan, June 8, 2016

Adjust font size:

Some 200 sets of internet-based educational software have been donated to southwest China's Tibet Autonomous Region to improve information availability at local schools, ranging from kindergartens to high schools. The 11th Panchen Lama, the religious leader of Tibetan Buddhism in China, attended the donation ceremony in Beijing on April 12, 2016.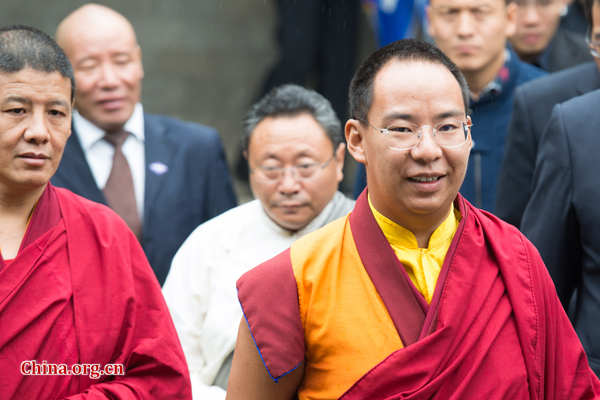 The 11th Panchen Lama, Bainqen Erdini Qoigyijabu (R), attends a donation ceremony on April 12, 2016 in Beijing during which 200 sets of cloud-based educational software are donated to schools in Tibet with the hope of alleviating poverty through better connected education. [Photo/China.org.cn by Chen Boyuan]
The donation, provided by the Beijing-based 91Yunxiao (cloud school) Company, consisted of 200 sets of "Cloud School" cloud-based smart educational platforms, each including a comprehensive campus management system, an educational resource management system, and a smart education system. The total value was 60 million yuan (US$9.28 million).
The donation will help with targeted poverty alleviation in Tibet through better education, and on a broader scale, contribute to building a prosperous society in Tibet, according to China Soong Ching Ling Foundation (CSCLF) and the Aid-Tibet Development Foundation.
Education plays a central role in targeted poverty alleviation and giving students a good education is key to preventing poverty from being passed down to the next generation. Rural areas in China largely lack high-quality educational resources, a difficult problem referred to as the "last mile" to complete in the journey of poverty eradication.
Cloud-based education is capable of narrowing such gaps by connecting rural schools to quality educational resources through the internet, bypassing geographical obstacles.
"By expanding the coverage of good-quality education and sending good education to rural areas and wherever it is most needed, we hope that more children will enjoy a good education," said Jing Dunquan, vice chairman of CSCLF.
The deputy chairman of the Tibet Autonomous Region Gesang Tsering, who is also secretary of the Aid-Tibet Development Foundation, thanked all who wish to contribute to the development of Tibet, saying that the foundation would seek to strengthen cooperation between Tibet and those who wish to help with Tibet's development.