Top Legislator Meets Moroccan Parliamentary Official
Adjust font size: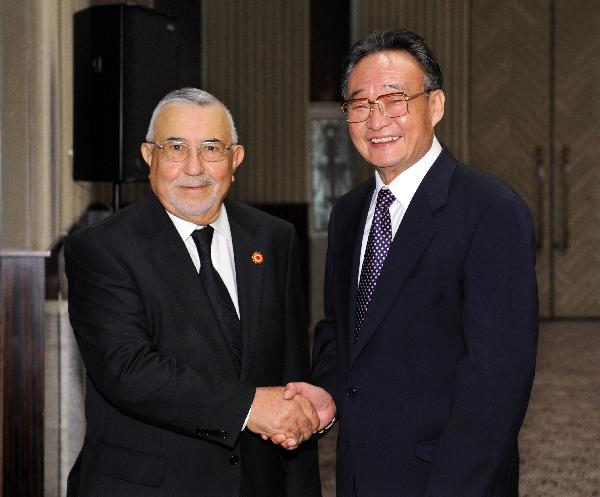 Wu Bangguo (R), chairman of the Standing Committee of China's National People's Congress, China's top legislature, meets with Abdelouahed Radi, chairman of the Chamber of Representatives of Morocco, who is here attending the ceremony for the China National Pavilion Day at the World Expo Park in Shanghai, east China, Oct. 1, 2010. [Xinhua]


Top Chinese legislator
Wu Bangguo
met with Abdeloughed Radi, president of Morocco's Chamber of Representatives, in Shanghai Friday.
Radi is in China for the World Expo and attended the celebrations of the China National Pavilion Day Friday. He also attended the Morocco National Pavilion Day Thursday.
Wu, Chairman of China's National People's Congress (NPC) Standing Committee, said Radi's presence demonstrated the great support Morocco gave to the World Expo and the goodwill the Moroccan people felt towards the Chinese.
The World Expo, which began on May 1, will run till the end of this month. "The success of the event should be attributed to the world's support as well as Shanghai's hard work," said Wu.
Wu hailed Shanghai as "a city of charisma," where he worked almost 30 years, and invited Radi to take in the city's sights.
Radi extended Moroccan King Sidi Mohammed's greetings to the Chinese people on the 61st anniversary of the founding of People's Republic of China.
"Morocco attaches great importance to relations with China and hopes China will be more prosperous in the future," Radi said.