Shanghai Tobacco Ban Catches Fire
Adjust font size:
Less than 2 percent of public venues inspected by local health authorities have had problems implementing the citywide smoking ban that took effect on March 1.
That is a sign the law has seen initial success, health authorities said Tuesday.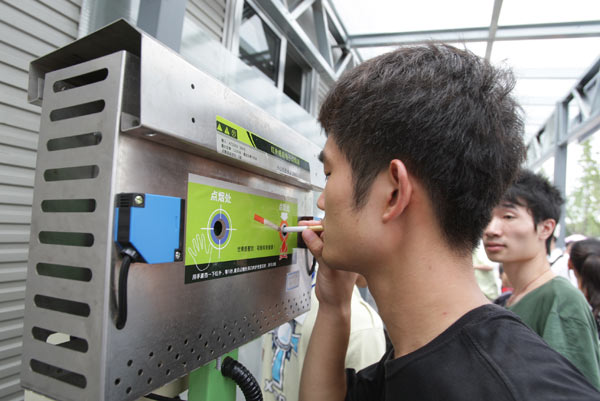 A visitor inserts a cigarette into a lighter installed in the smoking area of the Expo Garden, where personal lighters are prohibited. [China Daily]
Shanghai's health authorities inspected more than 73,000 public venues in the first four months of the ban, and 1,345 places had various problems and were ordered to make changes.
Meanwhile, 66 venues have either been warned or fined for their failure to comply with changes, health authorities said.
Authorities are also trying to live up to their promises of a smoke-free Expo.
About 95 percent of nearly 1,500 smokers caught puffing in public areas in the Expo Garden were successfully persuaded by volunteers to stop, and were directed to one of 43 designated smoking areas around the grounds.
In March, Shanghai began implementing its first anti-smoking law, which requires 13 types of public venues, including bars, restaurants and hotels, to set up designated non-smoking areas.
People who smoke in banned areas will first be warned by supervisors, and then fined 50 to 200 yuan (US$7 to $29) if they refuse to stop.
Several surveys by the municipal people's congress in the past few months have shown that over 90 percent of residents supported and welcomed the ban.
Despite the initial success, however, authorities were equally quick to add that supervision of the smoking ban is difficult.
"The law does not specify a proper proportion between the smoking and non-smoking areas in public venues and whether there needs to be a partition," said Xu Jianguang, director of the municipal health bureau.
He also said in areas such as an elevator it is difficult to monitor illegal smoking.
Li Ming, a local lawyer who was a proponent of the smoking ban long before it was enacted, said the fact that smokers are difficult to catch may explain why in reality people perceive there are more people smoking in public than the numbers suggest.
He suggested improved technology could help supervise smoking. "Buzzers could be used in non-smoking areas so when people smoke everyone will know," he said.
Statistics from health authorities show the city's overall smoking prevalence is 25 percent, with the male smoking rate at 49 percent.
(China Daily Sep 1, 2010)