Europe Day Celebrated at Expo Garden
Adjust font size: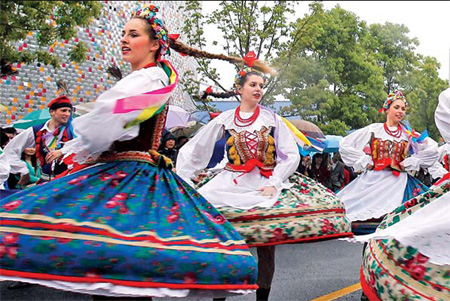 Dancers perform during Sunday's parade to celebrate Europe Day at the Expo Garden. [Xinhua] 
Europe Day was celebrated at Expo 2010 Shanghai on Sunday with a multicultural parade featuring more than 500 performers from 23 European countries.
The parade offered Expo visitors a chance to discover the richness and diversity of European traditions and cultures. The parade started from Houtan Square and traveled through C Zone before arriving at Expo Boulevard.
Sixty years ago to the day, on May 9, 1950, then French foreign affairs minister Robert Schuman affirmed a united Europe to overcome the scars of World War II. This was the first step toward the formal launch of the European Union. The 60th anniversary celebrated at Expo 2010 Shanghai also highlighted the relationship between Europe and China.
The Mecsek Folk Dance Ensemble represented Hungary, while the performance of Greece in the parade was inspired by the theme "Celebrations of Spring", which expressed the human need for revitalization. The dancers wore masks, wreaths and branches, which signified the euphoria and fertility of the land. Ciamada Nissarda, of Nice in France, made up of 80 performers, also paraded.
Apart from the parade, several other activities were held to celebrate Europe Day.
A three-hour pop music performance by four European artists was presented at the Europe Square between 7:00 PM and 10:00 PM.
Short films presenting and illustrating the 60th anniversary of the European affirmation were screened during the show and the soundtracks of the short films were designed specifically for the event.
A concert by the European Union Youth Orchestra was held at the Expo Centre Red Hall at 8:00 PM. This was touted as one of the world's most prestigious and dynamic youth orchestras and was composed of 140 talented young musicians, aged between 12 and 24, from all 27 EU countries.
Renowned Spanish conductor Inma Shara directed the 75-minute concert, which consisted of popular works reflecting Europe's musical heritage and included pieces by Beethoven, Chopin and Bizet. Special musical scores from Spain were also played to celebrate its rotating presidency of the EU, from January to June 2010.
The concert also featured 20-year-old Beijing guitar soloist Zhu Liying, who joined the orchestra for Rodrigo's famous Concierto de Aranjuez.
(China Daily May 10, 2010)