Albania Enjoying Its 1st Expo
Adjust font size:
As the first pavilion to celebrate its National Day in the Expo Garden, the Albania Pavilion featured a performance of Albanian folk songs and dances at the Europe Joint Pavilion II on Wednesday.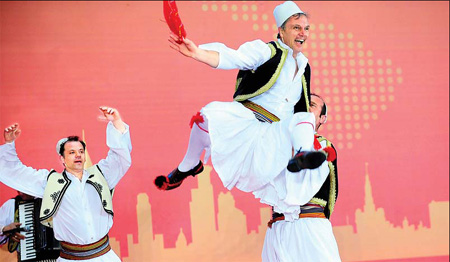 Actors perform folk songs and dances to celebrate Albania National Day at the Albania Pavilion on Wednesday. [Xinhua] 
The front of the Albania Pavilion is decorated as a mottled wall with the theme of Albania's most ancient and characteristic city of Gjirokaster. The pavilion is designed with images of the country's landscape embedded in the archways, together with models of historical architectures and modern videos.
"It is the first time we have had an exhibition at an Expo. We use the event to show that Albania has a rich culture to show and big opportunities to offer," said Viola Puci, representative of the Albanian delegation to the Shanghai Expo.
The Albanian Pavilion at the Shanghai Expo shows both the country's history and culture as well as the economic development Albania has achieved over the years.
"The theme of the Albanian Pavilion is to show that Albania is growing and is ready to attract investment from the outside world," Puci said.
Albania is a country in southeastern Europe. The Albanian coastline, which bridges the Adriatic and Lonian seas, is known for its rugged, unmatched beauty. Albania formally applied for EU membership candidate status last year.
(China Daily May 6, 2010)