Shanghai Classic Bars
Adjust font size:
The beauty of Shanghai lies in a sentiment that is both nostalgic and modern, like a free-spirited prose or a delicately prepared cup of coffee. In no better place than bars in Shanghai can we define the emotion.
In Shanghai most bars are housed in high rises or old mansions-distinctive and unique. Some are avant-grade, others archaic. People come to bars. Not simply to get away from bustling daily life or to wind up one's own dream. They like the ambience here when relaxing with friends or talking business. In today's Shanghai, the bar is a popular culture where you should never worry about the possibility of being left behind.
Cloud 9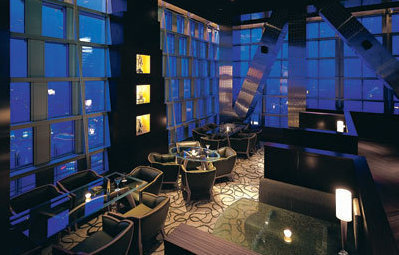 On 87th floor of Grand Hyatt Hotel, Cloud 9-330 meters above grand-is regarded as the tallest bar in Shanghai. Looking out of the huge glass panels, you can have a bird's eye view of the lit-up Bund by night. Here is great for catching up with friends or for a date. Jazz classics and blues make the experience that much more mellow.
Add: 87F, Grand Hyatt Hotel, 88 Century Avenue
Tel: 021-50471234*8787
Business Hours: Monday-Thursday 18:00-01:00 Friday, Saturday 18:00-02:00, Sunday 11:00-01:00
B.A.T.S.  
The name and decor comes from another B.A.T.S. bar in Jakarta, Indonesia. Huge cella bar with its brick walls give the feeling of being in a cave. Usually a live band nightly.
Address: Basement, Shangri-la Hotel, 33 Fucheng Road
Tel: 021-68828888
Business hours: 18:00-02:00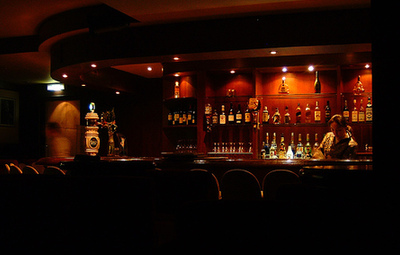 Cotton Club  
Live show 7 nights a week! Cotton Club has the distinction of being the premier jazz bar in Shanghai. Besides music, the bar also boasts many posters on the wall—Bille Holiday, John William Coltrane, etc. The ambience is classic and a top notch.
Address: 8 Fuxing Road (W)
Tel: 021-64377110
Business hours: 19:30-02:00
Oscar's Pub
With a classic Chinese name Li Xiang Garden, it is a truly English pub, lively but not noisy. Being nostalgic and cozy in style, it is very popular with foreigners. The big screen carries matches live and commentaries are welcome later. In Oscar's Pub, people from various nationalities enjoy their interaction and relaxing, pleasure-seeking atmosphere.
Address: 1377 Fuxing Road (M)
Tel: 021-64314881
Business hours: 10:30-01:00
Peace Old Jazz Bar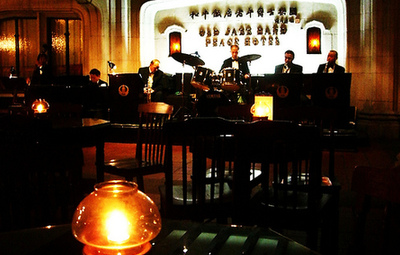 It is an exotic English country pub. Due to hotel's renovation, old Jazz Band moves from Peace Hotel to the Hua Ting Hotel &Towers. The jazz band, well-known in the world now, is composed of the elderly over 70 years of age on average. The strong coffee, specially-prepared cocktail, popular jazz pieces of 1930's and 40's in Europe and America have attracted celebrities from around the world.
Address: 1200 Caoxi Road(N) (3F,Hua Ting Hotel &Towers)
Tel: 021- 64391000
Business hours: 17:00-00:00
M-box  
M-box boasts the best Vodka—the image store of Absolut Vodka. Here, it's a must try to find a cocktail that mixed by vodka. Appealing to various crowds, the live show begins 21:00 nightly.
Address: 3F Amico Tower, 1325 Huaihai Road (M)
Tel: 021-64451777
Business hours: 18:00-02:00