Shanghai Snacks
Adjust font size:
Typical Shanghai Snacks could be traced back to as early as the Southern Song Dynasty and became more exquisite in cooking when Shanghai grew into an important city in early Ming Dynasty. After Shanghai was listed as a trading port by the end of the Qing Dynasty, various regional snacks were assimilated, developed and refined, bringing forth the specialty of Shanghai style. A while selection of Shanghai snacks comprises four must-haves for locals -- baked sesame pan cake, deep-fired dough sticks, soybean milk, sticky rice combo -- as well as dozens of kinds of pastry, bun, stuffed dumpling and rice and cake. Different from pure sweet taste of Canton-Hong Kong style or hot and spicy flavor of Sichuan-Chongqing type, Shanghai snack is famed for being light, fresh and tasty, and has long been diners'favorite for its characteristics.
He Feng Lou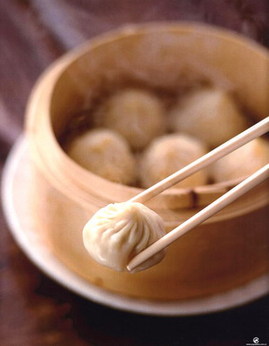 He Feng Lou beings all Chinese snacks together and introduces 144 snacks and dishes from 8 major styles and their 16 sub-cuisines. The two-storey restaurant serves on the first floor buffet-style Chinese cuisine numbering 300 in kinds according to their origins such as Shanghai, Sichuan & Hunan, Taiwan, Jiangsu, etc. The second floor id featured with specialty Chinese and overseas snacks including Japanese Teppanyaki, popular with tourists.
Specialty: steamed juicy crab roe bun, marinated pond snail
Address: 10 Wenchang Road
Tel: 021-63557878
Transportation: Bus 55, 930, 932, 980
Nan Xiang Steamed Bun Restaurant
Nan Xiang Steamed Bun Restaurant, situated by nine-twist-bridge at Old City God Temple, is an attraction in Yu Garden area, formerly named marble boat hall. In the restaurant with latticework windows, it takes a short while to have hot steamed buns serve. With chopsticks, bite a small hole, suck the juice and then dip into vinegar sauce before putting into your mouth-smooth, juicy and luscious.
Specialty: recipe-made crabmeat bun, juicy crab roe shrimp ball
Address: 85 Yuyuan Road
Tel: 021-63554206
Transportation: Beijia Line, Xianghua Line, Hu'nan Line, Luonan Line

Guang Ming Cun Restaurant
Guang Ming Cun Restaurant, open in 1948, is remarkable for dim-sum and snacks with over ten dishes awarded "Shanghai specialty snacks". Those snacks are highly appreciated including juicy chicken wanton soup, fired crabmeat stuffed bun and steamed pork stuffed bun. Some signature dishes are superb like crystal shrimp, peppery beef filet with honey, crispy duck, turtle and snake soup with herbs, eye brow-shaped crispy cake and milky date. The restaurant is popular with customers for its inexpensive piece, authentic taste, comfortable ambience and excellent service.
Specialty: juicy chicken wanton soup, fires crab meat stuffed bun
Address: 588 Huaihai Road (M.)
Tel: 021-53067878
Transportation: Bus 42, 911, 945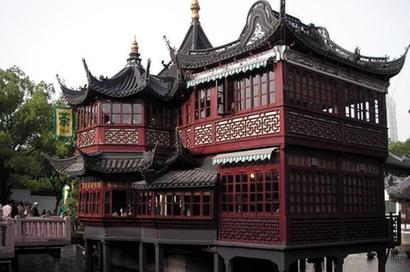 Lu Bo Lang Restaurant
Lu Bo Lang Restaurant, located by nine-twist-bridge at Old City God Temple, has an archaic, elegant and peaceful surrounding matching the elegance of Mid-Pond-Pavilion tea house next door. It is well-known by carefully selected raw materials and meticulous preparations, highly praised by gourmands from home and abroad. The signature dish "osmanthus cake" is so sticky in texture that gets stuck on plate or chopsticks but not tooth and feels smooth in the mouth carrying faint fragrance of rice wine, which puzzled former U.S President Clinton who had practiced with chopsticks for one month.
Specialty: eye brow-shaped crispy cake, sticky osmanthus cake, eight-treasure duck
Address: 115-131 Yuyang Road
Tel: 021-63280602
Transportation: Bus 11, 64, 66, 126, 920
Wang Jia Sha Restaurant
Wang Jia Sha Restaurant, lying at the crossing Nanjing Road (W) and Shimen Road, enjoys high popularity in Shanghai for its wide selection, meticulous preparations and delicious taste. The most popular four must-eats are tasty and fried stuffed bun, delicious shrimp wanton soup, crunchy red bean pastry and crispy double-side fried noodle. Nowadays the restaurant has created new crab meat dim-sum series and dishes, unique in snack preparations.
Specialty: crispy double-side fried noodles with shrimp, dumpling, eight-treasure rice pudding
Address: 805Nanjing Road (W.)
Tel: 021-625330404
Transportation: Bus 21, 17, 112, 921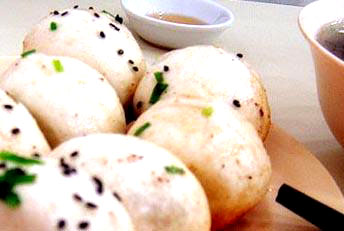 Feng Yu Restaurant
Feng Yu Restaurant with black characters on orange board is not spacious buy snug. On an early morning of autumn or winter, you may hang on in here, serves with hot fried stuffed bun with chives plus fried tofu rice noodle soup. You can't wait to use chopsticks. The white skin broken once bit, warm delicious soup and golden dough crusts are so luscious that you ignore the grease of buns. Inexpensive and tasty, Fengyu is fairly popular in Shanghai.
Specialty: fried stuffed bun, rice soup with fried tofu
Address: 41 Runjin Road (NO.2)
Tel: 021-53061742
Transportation: Metro Line 1 (Shaanxi Road (S) Station), Tourist Line 10, Bus 26, 945