Israel Pavilion
Adjust font size: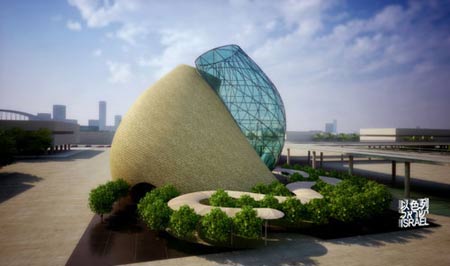 The Israel Pavilion. [en.expo2010.cn]
Israel will highlight innovation in its pavilion at World Expo 2010 along with putting a spotlight on ancient Jewish culture.
The country signed a participation contract with Expo organizers today and revealed Israel Pavilion will look like two clasped hands.
The two dynamic forms symbolize Israeli innovation and technology, said Irit Ben-Abba, the State of Israel's commissioner general for Expo 2010.
The message of Israel to World Expo is "Innovation for Better Life." It will echo the theme of the 2010 event, which is "Better City, Better Life," said Ben-Abba.
"Israel constantly seeks to contribute a substantial share to the world's leading innovations in art, science, literature and design and we believe innovation will contribute to better life," Ben-Abba said after signing a contract in Shanghai.
She added the 2,000-square-meter pavilion could also represent the dialogue between humanity and nature, the earth and sky, as well as the past and the future.
The pavilion consists of three areas -- Whispering Garden, Hall of Light and Hall of Innovations.
The Whispering Garden is a green orchard that greets visitors as they enter the building. Some facilities will be installed to make the trees begin to "whisper" in both English and Chinese when visitors walk close to them, Haim Z. Dotan, chief designer of the pavilion, told Shanghai Daily.
The hall of Light includes a 15-meter high screen. It will display films highlighting the country's innovations and technological achievements.
The Hall of Innovation is the centerpiece of the Israel Pavilion. A special audio-visual show will allow visitors to talk with Israeli children, scientists, doctors and inventors via hundreds of screens. These Israelis will introduce themselves and share their hopes for a better future.
It will not be a face-to-face talk because the talks will be pre-recorded, Dotan said. He told Shanghai Daily that visitors could hold a genuine conversation with Israeli people in the virtual Israel Pavilion at Expo Shanghai Online.
Expo Shanghai Online is an innovation of Expo 2010. It offers a three-dimensional virtual visit to the Expo site via the Internet. Israel also signed a contract today to participate in Expo Shanghai Online.
Israel allocated about US$6 million for its participation at Expo 2010, which includes the cost of its pavilion and other activities.
It is the first time Israel has committed to building a national pavilion at a World Expo.
So far, 227 countries, regions and international organizations have confirmed they will participate at Expo 2010.
(en.expo2010.cn)