Navy Beefs up Anti-piracy Effort
Adjust font size: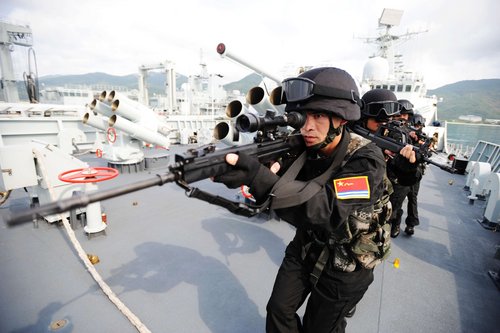 PLA Special Forces on the flotilla heading to the Gulf of Aden off Somalia on Wednesday. [China Daily]

The People's Liberation Army (PLA) navy is all set to dispatch two ships to the Gulf of Aden on Thursday to aid international efforts to combat piracy off the waters near Somalia, a senior naval commander told reporters on Wednesday.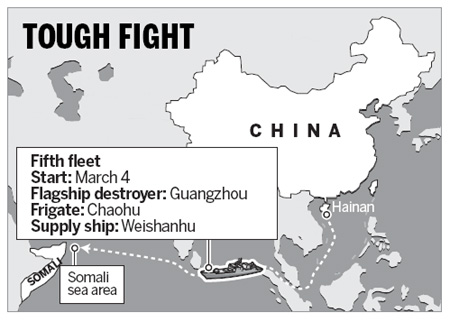 Destroyer Guangzhou and supply ship Weishanhu will set sail from the port of Sanya in Hainan province and will be joined by frigate Chaohu, which had been dispatched to the region in December to complement the fourth batch of ships, Zhang Wendan, senior colonel and deputy chief of staff of China's South Sea Fleet said.
More ships are also likely to be deployed in future, as the threat posed by Somali pirates has not abated.
"We have updated our equipment this time, and also intensified anti-piracy training," Zhang told reporters at the port.
He said the Chinese fleet would in future take turns to escort trade vessels as the procedure has now become "routine".
Pirates have changed their tactics and expanded their reach beyond the waters off Somalia to escape from escort frigates ordered by the UN over the past years.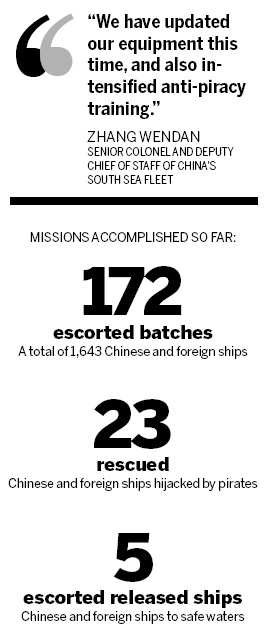 The political commissar of the South Sea Fleet, Chen Yan, said the navy was prepared "to the fullest" and that the soldiers were "very confident" about undertaking the new mission.
"We will look after not only the physical but also mental health of the soldiers, and for the first time, several psychiatrists as well as doctors will be on board with the crew. We are very confident and ready."
In order to communicate better with international naval forces, all Chinese soldiers are required to master a basic level of English. "We even prepared some English menus, with knives and forks, to prepare for future visits and exchanges," Chen added.
Captain Li Ping of destroyer Guangzhou told the reporters that the navy has an advanced system to deal with any dangerous situation at sea. Two helicopters and a few dozen soldiers from the PLA Special Forces are also on the flotilla, he said.
Although limited, the soldiers can keep in touch with their families back home via emails and telephone. "We call home about twice a month, but the length must be kept below five minutes each time, which is not a lot when you count the dialing time in," said Fu Guanghai, a 38-year-old father on the supply ship Weishanhu.
The Gulf of Aden lies off the east coast of Africa, and is among one of the world's most important shipping lanes. More than 20,000 vessels sail across the waters each year and are vulnerable to pirate attacks.
In 2008, increasing attacks by pirates prompted a UN Security Council resolution to allow international fleets to patrol waters off the coast of east Africa, in an effort to protect passing vessels.
Since the PLA navy joined the UN mission in late 2008, the Chinese fleet has so far escorted a total of 1,643 foreign and domestic ships, and rescued 23 vessels. According to official figures, more than 30 percent of China's foreign trade takes place via this route.
Worldwide piracy attacks increased by nearly 40 percent in 2009, with Somali pirates accounting for more than half of the 406 reported incidents, according to the International Maritime Bureau.
At the end of last year, Somali pirates were holding at least 12 vessels for ransom with 263 crewmembers of various nationalities as hostages.
(China Daily March 4, 2010)