President Hu Visits Quake-hit Yushu, Promises New Schools, Homes for Orphans
Adjust font size: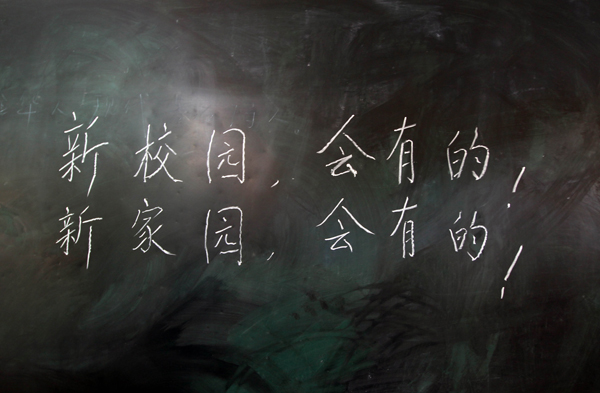 Chinese characters meaning "There will be new schools! There will be new homes!" written in chalk on a blackboard in a makeshift classroom by Chinese President Hu Jintao are seen at Yushu school for orphans in quake-hit Yushu County, northwest China's Qinghai Province, April 18, 2010. Hu Jintao paid a day-long visit to quake-hit Yushu County on Sunday to direct relief work. [Xinhua]
Chinese President
Hu Jintao
Sunday paid a morale-raising visit to quake-hit Yushu in northwest China's Qinghai Province, assuring locals of new homes and schools and steadfast relief work.
"There will be new schools! There will be new homes!" Hu wrote in chalk on a blackboard in a makeshift classroom in a tent of orphaned students.
The president led the students in reading aloud the words he wrote on the blackboard.
Hu's plane landed at Yushu's Batang Airport, which is 3,900 meters above sea level, Sunday morning after an over-three-hour flight from Beijing.
The president, who returned to China Saturday from a shortened visit to Latin America, headed for worst-hit Gyegu Town in Yushu immediately after landing.
Hu first traveled to the village of Zhaxi Datong to inspect the situation and console quake victims. Of some 600 residents in the village, 120 villagers already died and 72 people remain missing, and 120 people were injured.
In his visit to a makeshift tent home, Hu said to a local Tibetan,"I assure you that the Party and the government will definitely help quake victims rebuild homes and resume classes for children as soon as possible."
The man had told the president instead of food and clothing, his biggest worry was about housing and the school education that was halted by the quake.
Hu then visited the injured receiving treatment at a stadium in Yushu and made sure there were enough medical supplies and that epidemic prevention and control work was proceeding smoothly.
"The top priority is to rescue those still buried alive and to treat the injured. Each life must be cherished," Hu said.
"Secondly, we must take good care of the quake-affected local people to make sure they have food to eat, clean water to drink, a place to sleep and clothes to keep warm.
"Thirdly, we must speed up infrastructure construction and pave the way for relief work and post-quake reconstruction.
"Fourthly, we must create conditions for children to resume classes as soon as possible, even if it has to be in makeshift classrooms.
"There is a lot more work to do and we will continue to make efforts," Hu said.
At the tent hospital, when she saw the president approaching, Tibetan girl Drolma rose her upper body from the bed and burst into tears. She was injured on the right arm in the quake.
Holding the weeping girl in his right arm, the president consoled Drolma, ensured her of government help to cure her, and encouraged her to rebuild confidence in life.
The president also talked to an injured Tibetan man in a medical tent.
"The Party and the government care about all the victims of the quake. Doctors will give you meticulous treatment...The party and the government will help with a new home...You should have confidence and recover," Hu said as he held the injured man's hands.
The Tibetan man replied, "Thank you, General Secretary. Tashi Delek!" (Tashi Delek means good luck in Tibetan)
The president also talked to rescuers who were busy clearing rubble and searching for survivors in the quake-devastated village of Zhaxike.
As his visit came to an end, Hu told a relief headquarter meeting that the relief operations were at a critical moment. "We must be more determined, act more swiftly, and adopt more scientific methods in relief work and to overcome any difficulties," he said.
He urged the authorities to make every effort to ensure social harmony and stability.
The 7.1-magnitude quake which struck the Tibetan Autonomous Prefecture of Yushu Wednesday morning has left at least 1,706 dead, 256 missing and 12,128 injured, as of 10:00 AM Sunday.
(Xinhua News Agency April 19, 2010)