Rescuers Struggling to Reach Survivors
Adjust font size: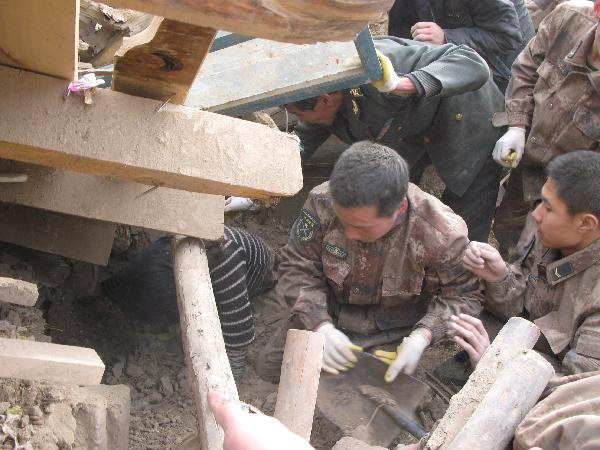 Officers and soldiers of the Chinese People's Liberation Army work in a rescue operation in the rubbles of destroyed houses in Yushu County, northwest China's Qinghai Province, April 14, 2010. [Xinhua]


Rescuers fought altitude sickness, chilly weather, strong winds and frequent aftershocks Thursday to dig through rubble and reach survivors of a strong earthquake that has left 617 dead, 9,110 injured and 313 missing in northwest China.
At least 750 aftershocks have been recorded in the quake zone so far, with the biggest being at 6.3 magnitude.
The 7.1-magnitude quake, which struck the Tibetan Autonomous Prefecture of Yushu in southern Qinghai Province early on Wednesday, also toppled 15,000 residential buildings and forced 100,000 residents to be relocated, according to the rescue headquarters.
Many people are still buried under the debris of collapsed houses in the Gyegu Town near the epicenter, the seat of the Yushu prefecture government and home to 100,000 people. It sits at about 4,000 meters above sea level.
More than 85 percent of houses in Gyegu, mostly made of mudbrick and wood, had collapsed.
In addition to professional search and rescue teams, almost 2,000 soldiers, police officers and fire-fighters were using excavators, shovels or even bare hands to comb through the debris to find survivors.
More rescuers are en route to Yushu.