Editor's Notes
china.org.cn / chinagate.cn by Jiao Meng, February 17, 2012

Adjust font size:

Many farmers in China's western regions continue to live in poverty due to poor natural conditions and frequent natural disasters.

At present, there are over 300 poverty-relief micro loan institutions in China. As a recognized financial tool for poverty alleviation, micro credit has help thousands of farmers - especially women - to start their own business and improve living conditions.

However, many of these institutions are faced with their own financial challenges as they are not allowed to directly take cash deposits.

Person-to-person lending platforms such as Yinongdai have offered an alternative for lenders to raise funds and distribute loans. This newly-introduced model encourages private individuals to lend spare money to those in need over the Internet, which can be more effective than traditional ways.

Freelance photographers Hei Ming and Tian He from Yinongdai have been tracking the progress of micro loans in rural areas.

Let's look through their lenses for a sense of people's lives in some poverty-stricken areas and see how micro loans have lent a helping hand.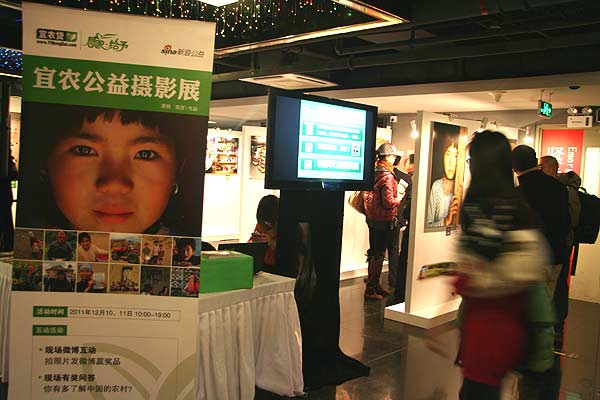 Gallery-goers browse photos in the Yinong Photo Exhibition in Beijing on Dec. 10, 2011. The two-day exhibition displayed over 20 photos shot in western China to showcase benefits brought by micro credit to rural residents who lived below poverty line. The event was hosted by CreditEase, a leading company in peer-to-peer lending in the country. [CnDG/Jiao Meng]