Microfinance VS Microcredit
china.org.cn / chinagate.cn by Jiao Meng, February 17, 2012

Adjust font size:

Microfinance is defined as the practice of providing financial services -- such as loans as low as US$100, savings and insurance -- to very poor families, to help them grow tiny businesses or engage in other productive economic activities. This process enables the working poor to become more self-sufficient and in turn, improve the lives of family members, communities and whole societies.

Microfinance includes a broader range of services, such as loans, savings, insurance and transfer services (remittances) targeted at low-income clients. A variety of institutions can provide these services, including NGOs, credit unions, cooperatives, private commercial banks, non-bank financial institutions (some that have transformed from NGOs into regulated institutions) and parts of state-owned banks.

Microcredit came to prominence in the 1980s, though early experiments date back 30 years ago in Brazil, Bangladesh and a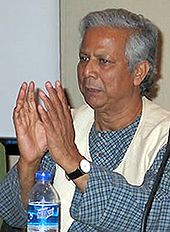 Nobel Laureate Muhammad Yunus, Grameen bank's founder 
 few other countries. Modern microcredit is generally considered to have originated with the Grameen Bank founded in Bangladesh in 1983s.This innovation empowered the poor in a new way by providing them with access to financial services that were formal and secure. Microcredit also solved the problems of earlier kinds of development lending – by insisting on repayment, by charging interest rates that could cover the costs of delivering credit, and by focusing on clients whose alternative source of credit was informal and insecure.
Microcredit is loaned to a microentrepreneur by a bank or other institution and can be offered, often without collateral, to a group or an individual.
Group lending, also known as solidarity group lending or village banking, is a mechanism that allows a number of individuals to gain access to microcredit by providing collateral or guaranteeing a loan through a group repayment pledge. The incentive to repay is based upon peer pressure; if one person in the group defaults, the other group members make up the payment amount.
Individual lending focuses on providing microcredit to one client and does not require other people to provide collateral or guarantee a loan.
 (Reference to Wikipedia and ACCION)